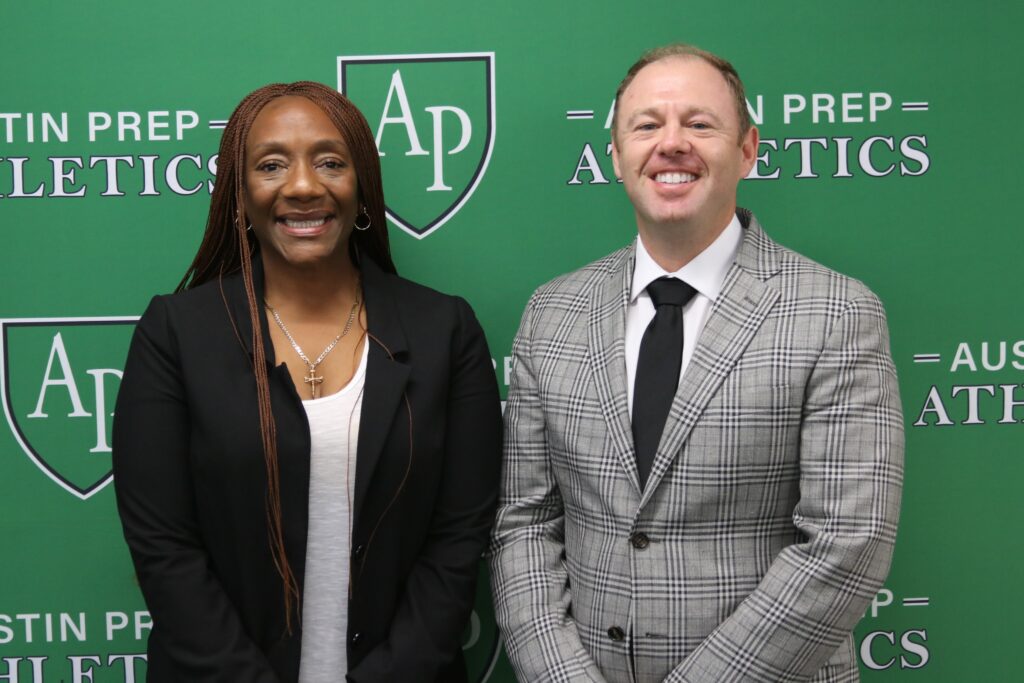 Reading, MA—- Austin Prep announced October 20 the appointment of Ushearnda Stroud as the school's next Head Varsity Girls Basketball Coach. Coach Stroud takes the helm of the program after achieving considerable playing and coaching success, as well as experience on the AAU basketball circuit.
"As with any coaching position at Austin Prep, the best candidate will have the right experience, exceptional gifts, and be mission-aligned. We are fortunate to add an individual who brings a unique balance of these attributes, " Director of Athletics Patrick Driscoll said. "Coach Stroud's experience, appreciation of our School's mission, and passion for developing the student-athlete makes her an excellent choice to lead our Girls Basketball Program."
A Georgia native, Coach Stroud comes to Austin Prep from Brooks School, where she has served as the head coach since the 2018-2019 season. Most notably, she led the team to the New England Preparatory School Athletic Council (NEPSAC) Class B title in 2019-20 and 2021-22, and was the NEPSAC Class B Coach of the Year in 2022, a year in which Brooks finished undefeated for the first time in school history. Brooks also captured the ISL championship for the first time in school history during that undefeated 2021-22 year.
Prior to her time at Brooks, Coach Stroud held coaching positions at Watertown High School, Notre Dame Cristo Rey High School, Salem State University and at Lawrence High School. Recent student- athletes who played for Coach Stroud are continuing their academic and basketball careers at UConn, Boston College, Marquette, Syracuse, Providence, Rutgers, Richmond, Illinois, Drexel, Brown, Dartmouth, Holy Cross, Sacred Heart, UMass Amherst, and the University of New Hampshire. That list includes Brooks' first ever male or female Gatorade Player of the Year, Taina Mair, who is currently at Boston College.
Additionally, Coach Stroud is the Girl's Director of Mass Lady Rivals, an Adidas 3SSB program, and coaches the Lady Rivals Adidas National Gauntlet AAU Team. Outside of basketball, Coach Stroud is the Executive Director of International Childcare, a non-profit organization whose mission is to provide inclusive and therapeutic educational services for families in Malden, MA, and surrounding communities.
Prior to her coaching and professional career, Coach Stroud played basketball collegiately and then professionally in Germany. She holds a Bachelor of Science degree from Sacred Heart University.
In addition to her coaching duties, Coach Stroud will also serve as Coordinator of After School and Summer Programming at Austin Prep.
Coach Stroud, who is on the Board of the NEPSAC Girls Basketball Association, is enthusiastic about the opportunity to lead the Austin Prep Girls Basketball Program. "I would like to thank Director of Athletics Patrick Driscoll and Head of School James Hickey for entrusting me with the position of head girls basketball coach here at Austin Prep," Coach Stroud said. "I have great experiences coaching in the NEPSAC, and I am excited to lead this program in their transition to the NEPSAC and guide the program towards continued success."
All of Austin Prep's athletic programs transitioned to the NEPSAC, beginning with the 2022-23 academic year.