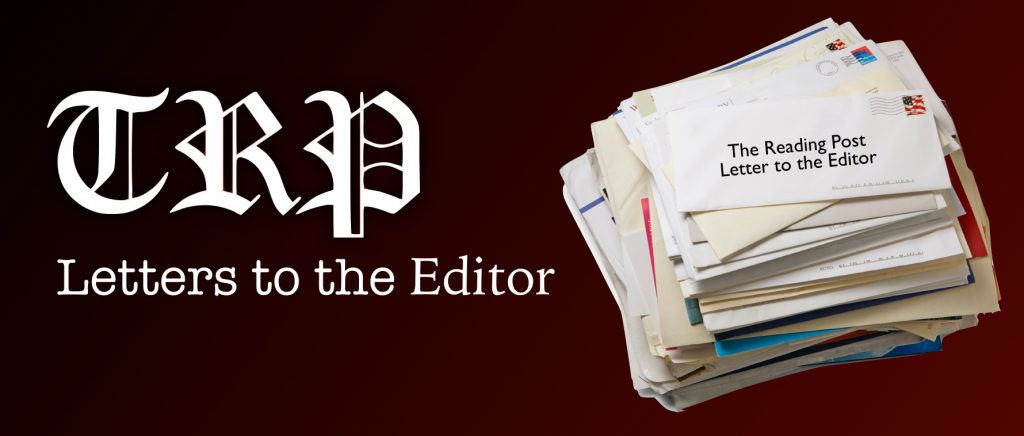 The Reading Post accepts Letters to the Editor. All letters must be signed. The Reading Post reserves the right to edit or not publish any letters received. Letters do not represent the views or opinions of the Post. editor@thereadingpost.com
---
Dear Reading neighbors,
In most years, the rhetoric around our Select Board election tends to focus either on relatively small issues like parking woes and plastic bags, or on a host of fuzzy concepts like transparency and communication. While these issues matter, and are to some degree within the purview of the Select Board, I will be voting for Karen Herrick in this year's election because she has a superior history of addressing the fundamental challenges facing Reading.
Municipal funding in Massachusetts makes things very difficult for a town like Reading. With very few commercial / business properties, residents are left on the hook to fund the vast majority of the town's services. Compare that with a town like Burlington: despite a population similar to Reading's, they collect nearly our entire tax levy from businesses alone, before collecting a single dollar from residents for property taxes. This gives them significantly more bang for their buck than a highly residential town like Reading. Further, the state's formula for education funding means we only receive a small annual increase of about 1%, so that important source of funding stretches a little bit less each year than it did the year before.
Karen Herrick, a veteran of at least eight budget cycles as a member of the Select Board or the Finance Committee, understands these issues better than most. And not only does she understand them, but she has also regularly used her role as a member of the Select Board to help address them. Karen routinely advocates to our state legislators on Beacon Hill on behalf of Reading. On everything from grant applications, to local powers granted by the state (aka, home rule petitions), to state funding formulas. Karen has been by far the most persistent advocate of Reading meeting the requirements to be designated a Green Community, which will open the door to Reading being eligible for up to $250k in grants annually.
Her opponents have disingenuously attacked language on a campaign flyer in which she points out that she helped secure millions of dollars in grants. If they don't understand that Karen's active engagement with the state delegation can be an important factor in state funding decisions, I would question whether they understand what's required of the role they are seeking.
Ms. Herrick's advocacy is not just impactful on the town side, but on the schools' side of the budget as well. In my time on the School Committee, I've seen first hand how she has embraced her role as a member of the Killam School Building Committee, extending her advocacy to petitioning state leaders to properly fund the state program that helps communities pay for new school buildings. This could help reduce the financial impact on Reading residents of a new Killam. She's been an engaged and active participant in discussions on this critical upcoming project, frequently attending and participating in School Committee meetings over the last year or more as a liaison from the Select Board.
If you have any doubts about the sheer competence Karen brings to the role, simply watch the last half hour or so of the recent Candidates Forum hosted by RCTV at https://www.youtube.com/watch?v=Ro_O5PT9SAc and remove all doubt. You'll see Karen competently and calmly answer several questions while her opponents engage in what is clearly a coordinated attack on Karen's personality. The other two candidates were more focused on complaining about past conflicts on the board and airing their personal dislikes than giving voters new ideas or concrete suggestions of what they intend to do to actually help Reading thrive in the future. If you want a functioning Select Board with experienced town leaders who have delivered measurable results for Reading, Karen Herrick is the only choice.
Please join me in voting for Karen Herrick, on or before April 4. To learn more about Karen, visit www.VoteKarenHerrick.com.
Shawn Brandt
Franklin Street