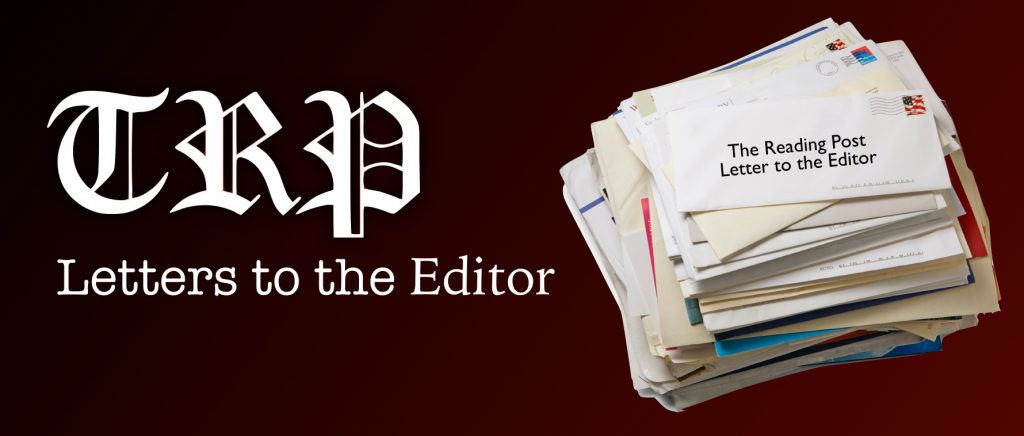 The Reading Post accepts Letters to the Editor. All letters must be signed. The Reading Post reserves the right to edit or not publish any letters received. Letters do not represent the views or opinions of the Post. editor@thereadingpost.com
---
To the Editor:
In my family, my wife is the writer and I am the man of few words. While she waxes poetic, I am a firm believer that there is beauty in brevity. However, when it comes to sharing my thoughts on my better half, I could fill a broadsheet newspaper and I will have trouble limiting my enthusiasm for her candidacy. I believe that my wife Anne Landry would be an outstanding member of the Reading Select Board.
Anne and I both love Reading and she is running for this office to make sure our town remains a wonderful community to live in. In the seven years since we have moved here, we have never ceased to be amazed by our neighbors. We have returned home from a trip to find our home completely shoveled out from a snowstorm. When we are running late, we always know that with a quick call to the neighbors we have a last minute dog walker. A few eggs and cup of sugar are never more than a quick text away. This is the community we are fortunate enough to call home. These are the people that make Reading special. This is why Anne is working so hard to serve our community on the Reading Select Board. She wants to give back to all of those who make our community the best place to live. I know that her love for our family we are raising here also motivates her to do all she can to ensure that Reading is the best possible home for all its residents, from children to senior citizens.
I have never met someone as passionate about public service as Anne. I know that Anne is running this race for the right reasons. She firmly believes that the role of a public official is to serve the public. She does not care about the prestige or status. She wants her neighbors to be represented in the best way possible. I witnessed this in her private reaction to her narrow loss in the state representative primary in the fall. After the fall election, she reached out to Representative Haggerty to not only congratulate him but to offer to connect him with more of her own friends and neighbors in Reading. I'm sure she did this not only because it was the right thing to do on a human being-level but also because it was the right thing to do for Reading.
Anne is not only a great listener but an empathetic listener as well. She is very understanding that there are always differing opinions and as a Select Board member I have confidence that she will do her best to understand all sides to every issue. I guarantee she will value and respect everyone's opinion and be transparent in her reasoning about any decision she comes to. During this campaign, she has made herself as accessible as possible by door knocking and giving out her personal cell phone number so that anyone who has questions about her stance on the issues can ask her directly. Through connecting with residents, she's heard many ideas for improving our town. She is committed to giving a voice to these ideas on the Select Board.
Anne is a wonderful wife, mom, friend, and neighbor with a strong dedication to her career and community. I am constantly amazed by Anne's capacity to give to others. I believe Anne deserves to be on the Reading Select Board, but more importantly, I believe Reading deserves to have someone as kind, intelligent, empathetic, and understanding as Anne representing them. I wholeheartedly endorse Anne Landry as a candidate for Reading Select Board in the April 2nd town election.
Ryan Landry
Center Avenue