Reading, MA — Chief David Clark is pleased to announce that the Reading Police Department will promote one of its members to the rank of lieutenant.
Sgt. Christopher Jones will officially start in his new role after being sworn in on May 24.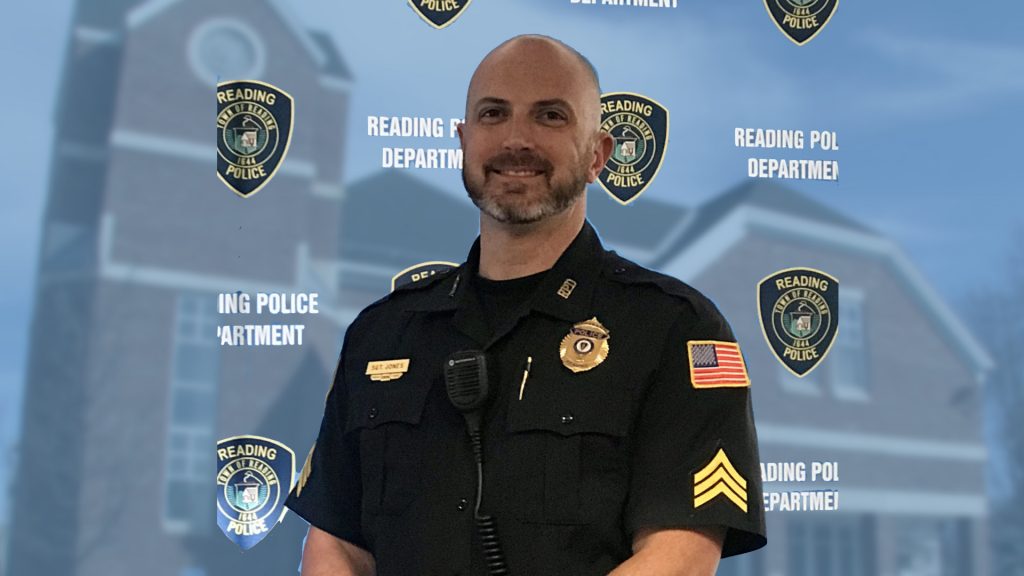 "Sgt. Jones is a valuable member of the Reading Police Department and this recognition and expansion of his responsibilities is well-earned," Chief Clark said. "Congratulations to him on his promotion to lieutenant, and I look forward to continue working with him to effectively serve the Reading community."
Jones joined the Reading Police Department in October 2006 as a public safety dispatcher, beginning his career in law enforcement. In March 2008, he was hired as a full-time officer and he served in that role until July 2014 when he was promoted to the rank of sergeant. As a sergeant, Jones served as a patrol supervisor, Field Training Program supervisor, and new hire coordinator.
In his new role, Jones will oversee the Support Services Division that had previously been managed by Deputy Chief Christine Amendola. His duties will include overseeing Community Services, including Domestic Violence Services, Elder Services, and the Crisis Intervention Team. He will also manage Traffic and Safety, Fleet Maintenance, and the License to Carry Process. Additionally, he will be the department's accreditation manager and training supervisor.
During his time with the department, Sgt. Jones has also worked as a CPR Instructor and Honor Guard Unit Supervisor. As a Field Training Program supervisor, he created a new training task book to document officers' progress and mentored new recruits as they entered the department. He also holds a master's and bachelor's degree in criminal justice from the University of Massachusetts Lowell, along with graduate certificates in both criminal justice informatics and leadership and policy development.