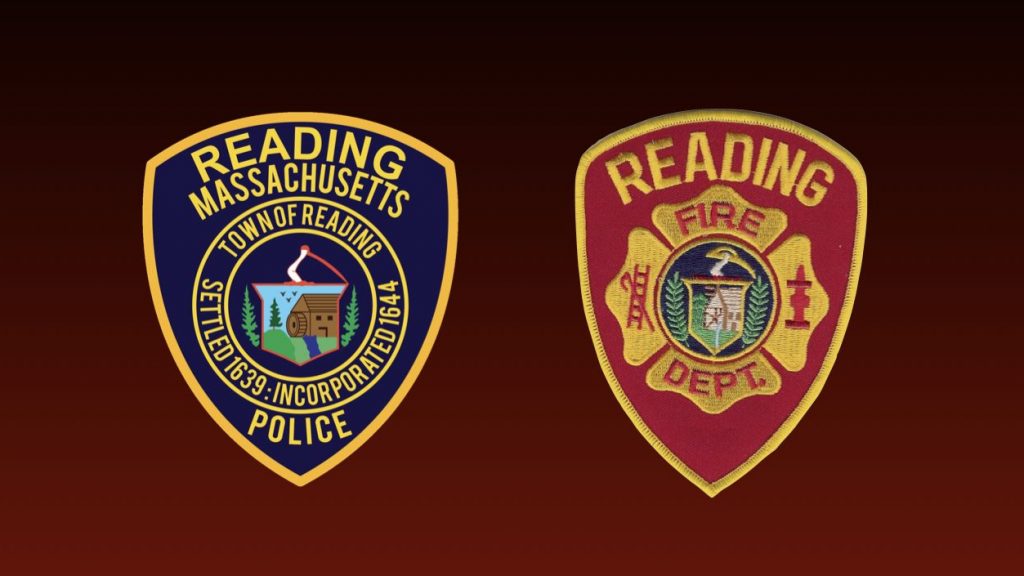 Reading, MA — Excerpts from the Reading Police and Fire Log:
Thursday, February 11, 2021
6:20am – Verbal Warning Issued at Vehicle Stop on Main Street.
7:48am – Lift Assist for Deborah Drive Resident.
1:57pm – Report of Suspicious Person Checking Doors to Vacant Home on Main Street.
2:36pm – Investigation of Minor Two Vehicle Crash on Haverhill Street.
2:43pm – Investigation of Two-Vehicle Crash on Main Street.
3:21pm – Report of Loose Cat with Collar on Pine Ridge Road.
4:15pm – Assistance Rendered to Main Street Resident Having Issue with Phone.
4:28pm – Report of Motorized Scooter Running over Ankle of Minor at Main Street Business.
5:46pm – Assistance Rendered to Resident Needing to Retrieve Mail from Lakeview Avenue Residence.
5:57pm – Complaint Regarding Vehicle Buried in Snow on Union Street.
6:17pm – Report of Suspicious Person Walking on Lowell Street.
Friday, February 12, 2021
12:00am – Emergency 209A Granted by Superior Court to West Street Resident.
7:18pm – Concern Expressed Regarding Forest Street Resident Refusing Services.
7:59am – Possible Water Main Break Reported on Marla Lane.
9:05am – Notice of Repossession at Ash Street Residence Received.
11:04am – Lights not Cycling Properly at Summer Avenue and Main Street.
11:23am – Wire Down on Pasture Road.
11:25am – Verbal Warning for Operating on Wrong Side of Milepost Road.
12:56pm – Complaint Regarding Erratic Operation on Haven Street.
3:24pm – Report of Deer Injured in the Middle of Main Street.
3:33pm – Robin Road Resident Concerned Regarding Neighbor's Dog Left Outside in Cold.
4:03pm – Wallet Found in Walkers Brook Drive Parking Lot.
5:32pm – Fairchild Drive Resident Reports Fraudulent Check Cashed.
6:37pm – Complaint Regarding Vehicles Not Parked Close Enough to Curb and Blocking the Road on Haven Street.
7:38pm – Fire Alarm Activation at Main Street Residence.
9:57pm – Possible Chimney Fire Reported on Barrows Road.
10:54pm – As a Result of Stop, Verbal Warning Issued for Speed on Main Street.
11:09pm – Train Gates Down, Causing Traffic Backup on Main Street.
Saturday, February 13, 2021
12:59am – Suspicious Vehicle in Rear Lot of West Street Business.
7:11am – As a Result of Stop, Verbal Warning Issued for Improper Passing on Pleasant Street.
8:28am – Fire Alarm Activation at Sanborn Street Building.
11:45am – Complaint Regarding Oil Truck Blocking Traffic While Making a Delivery on Ash Street.
11:54am – Lost Keys Turned in at Station.
12:29pm – Water Call Man Notified of Leak at Water Tower on Hopkins Street.
12:42pm – Report of Haven Street Residence with Door Open.
1:19pm – Two Vehicle Crash on Main Street.
1:41pm – South Street Resident Reports Online Harassment.
3:50pm – Water Leaking into Street from A Street Driveway.
4:37pm – Minor Vehicle Accident in General Way Parking Lot.
6:57pm – Disabled Vehicle on Haverhill Street.
8:00pm – Arrest of Suspect for OUI, Operating with Suspended License, and Marked Lanes Violation.
10:29pm – NH State Police Request Check for Vehicle on Hancock Street.
10:37pm – Commercial Alarm at Salem Street Business.
Sunday, February 14, 2021
1:02am – Report of Loud Noise and People on Green Street.
2:41am – DPW Reports Parked Cars Making it Difficult to Pass on Track Road.
12:04pm – Derry, NH PD Requests to Speak with Crocus Lane Resident.
12:23pm – Attempt to Serve Summons to Lakeview Avenue Resident.
12:39pm – Traffic Light at Salem Street and Lowell Street Struck by Tractor Trailer.
2:59pm – Report of Dog Loose on Grove Street.
5:40pm – Audible Alarm Reported at Grove Street Pump Station.
6:49pm – Fire Alarm Activation at Village Street Home.
7:29pm – Suspicious Person Sitting in Entryway on General Way Business.
9:38pm – Person Taken into Protective Custody After Refusing to Leave High Street Apartment and Harassing Resident.
9:45pm – Outside Odor of Gas Reported on Pleasant Street.
10:13pm – Report of Two Persons Fighting at the Depot.