Reading, MA — To say the last year hasn't exactly gone according to plan is a bit of an understatement. Plans for everything from graduations to grandparents' visits have been postponed as the pandemic continues to wreak havoc on both the country and local communities. The pandemic has coincided with an already stressful time in the lives of current high school seniors: applying to colleges.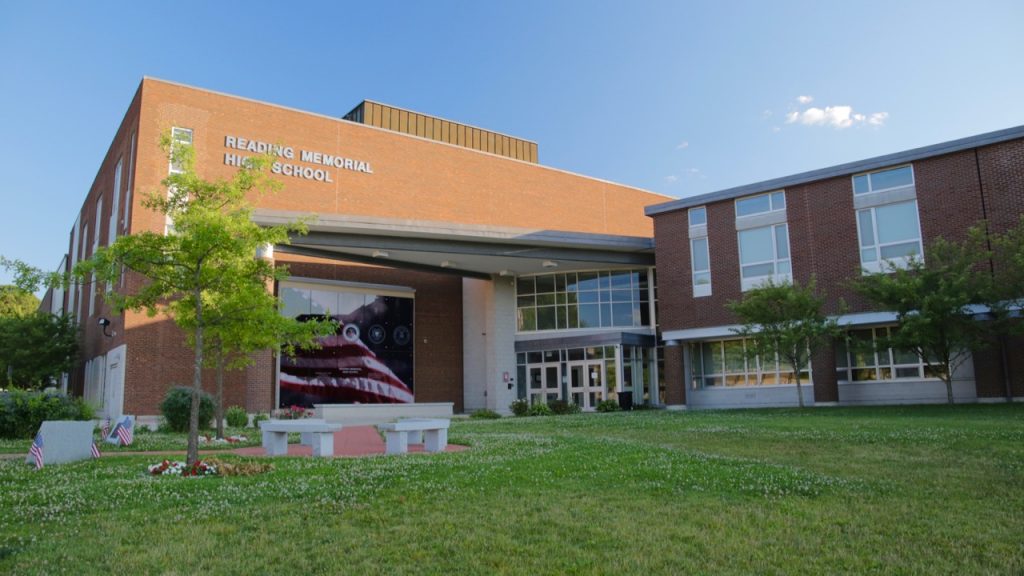 When most people conjure up memories of applying to colleges, they might remember sitting for the SAT in a crowded classroom, spending hours touring college campuses, and countless afternoons fretting in the offices of their guidance counselors. The RMHS Class of 2021, like seniors across the country, have had a very different experience applying to college.
"I was supposed to take the SAT last March, the same weekend that everything ended up shutting down. And the College Board [the company behind the SAT] said they were going to push them back to June, and then they said August, and then I finally ended up getting to take them in mid-October," said Ava Coelho, RMHS 2021.
"I didn't end up submitting my SAT scores to colleges because all of my tests were canceled, and I could only take one test. It was just very rushed and overwhelming, and so I used test-optional to my advantage," said Catherine Adams, RMHS 2021.
Many colleges, including Northeastern, Boston University, and Harvard University, are now giving applicants the option to not submit their SAT or ACT scores this year, acknowledging that many students have been unable to take the test under similar conditions that their predecessors had available. Many RMHS seniors were only able to take the SAT once, at an RMHS sanctioned seniors only testing date in October of this past year.
"I don't think I know anyone that has actually sent in their SAT scores. I took a virtual tour at Northeastern where the guide basically said 'anything less than amazing could really deter your application,'" said Ella Ramos, RMHS 2021.
"There were so many applicants who are not going to submit their scores that the ones who are going to submit them are going to have like a 1600," added Adams.
Despite their challenges with taking the SAT this past year, many students within the Class of 2021 do not see their inability to send their test scores as hurting their applications. In many cases, the option to not send in their test scores has allowed them to apply to schools outside of their comfort zone.
"It definitely made me want to go for schools that I wouldn't normally have gone for, just because I felt like my transcript stood stronger on its own. There are some schools that I applied to that if I had to give my SAT scores, they wouldn't have even been on my list. But now that they are just looking at my transcript and my writing, I think I have a better shot. Before the pandemic, I thought I wanted to stay on the East Coast. But after all this, I decided I didn't care anymore, so I applied to schools all over, in cities like New York, Boston, and Los Angeles," said Coelho.
Despite the doors that not having to submit their standardized test scores have opened for current seniors, many applicants have not been able to physically tour the vast majority of the schools that they are interested in.
"I have not visited or toured a lot of the schools I applied to. I was able to tour a few last February. Still, when routine was thrown out the window last March, I was kind of forced to research schools without having the opportunity to see them in-person, which was difficult, but those on my list now are schools that I hadn't even heard of when I was younger. I applied to more schools with the idea that I needed more options because I don't really know where I want to go," said Adams.
"I applied to most schools not having ever seen them before, which is kind of weird. Most places now have virtual tours, where it'll take you on a map of campus, and then sometimes you can register online for guided tours where a student or faculty member will take you through pictures of everything and stuff like that. So, there's definitely ways to kind of get around not seeing them in person, but I haven't seen any places in person. It's mostly just been like pictures of different campuses online," said Coelho.
For some students, the time they have had to spend in self-isolation has helped them clarify what they hope to study in college.
"Since middle school, I always thought I wanted to do communications or journalism. That's what my sister did, and so I thought that was also the route I wanted to go. And then, in the beginning of quarantine, I got really into art, and graphic design, and so many other topics too, that made me really want to go to a school that offers a wide range of options. And so, when applying to schools, my biggest thing was not like limiting myself. I think being able to really get to know what you're interested in is what so many seniors took away from quarantine because you had X amount of months to yourself to just really dig into your interests, which I think is such a positive that no one really talks about" said Ramos.
"For the longest time, I never knew what I wanted to do because I had so many different interests. Like at one point, I wanted to be a doctor, and then I wanted to go into politics. But then, when the pandemic hit, and we didn't really have school, I started doing a lot more with The Orbit [the RMHS newspaper], and I realized that I really liked it. I always liked it, but I never thought that I would do it as a career, but now I'm applying to schools as a journalism major. I think if the pandemic didn't happen, I probably would be going on the path towards med school, and maybe I wouldn't be as happy," said Adams.
Current seniors expect to hear back from their prospective schools later this spring.