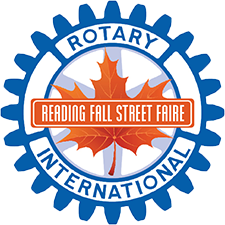 The Reading Fall Street Faire could not be staged in its usual format, so Reading Rotary has created several events to facilitate the community coming together while being apart. The third event in this series is "Where's Rotary This Week?"
Members of Reading Rotary will be popping up at various local businesses Oct. 29 – Nov. 19 to celebrate shopping local and promote fun in our Town. The business locations will NOT be announced ahead of time but will be heavily promoted on social media during and after each appearance. Rotary members will be distributing gift cards to the lucky shoppers/diners/patrons who are there to encourage them to come back and keep shopping and dining locally.
Event Co-Chair Sheila Clarke said: "When we realized had to cancel the Street Faire, we looked for fun ways to keep excitement and community spirit of the Faire in Reading. We hope people will have fun while we can encourage patronage of local establishments."
It's free to participate. Rotary and its sponsors will cover the cost of the gift cards.
If businesses would like to be entered for a chance to host the Rotary and celebrate your customers, please email asap readingmarotary@gmail.com
Business locations will be picked by lottery and business owners will be contacted to arrange a good time for Rotary to visit.
We are looking for sponsors! Your generous donation will allow us to purchase gift cards and run this event. For details on the benefits of sponsorship, please readingmarotary@gmail.com or visit the Reading Fall Street Faire website at fallstreetfaire.com.
Thank you to our sponsors to date: Lee Kimball; M&H Interiors; Sartell Electrical Services; Jeanne Borawski; Jenn Rogers; David Traniello, Esquire; Douglass, Edgerley & Bessom Funeral Home; and Timothy J. Kelley, Attorney at Law.