Saturday, November 7, 2020, 7:30 with Reverend Robert Jones & Matt Watroba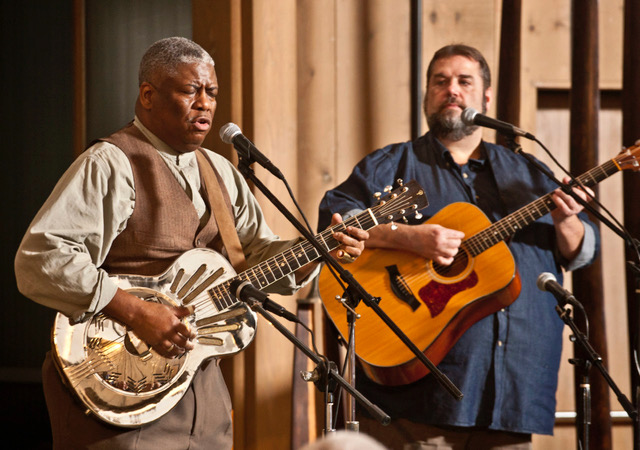 The Linden Tree Coffeehouse announces its next 36th season show on Saturday, November 7, at 7:30 pm Boston time!, featuring Detroit natives Rev. Robert B. Jones, SR., and Matt Watroba. This is a program the whole family can enjoy. Although due to Covid-19, we cannot have the shows at the Unitarian-Universalist Church in Wakefield, our national performers will broadcast live from the safety of their homes. Up close and personal, Linden Tree will continue to Making Memorable Music. 
Matt Watroba and Rev Robert B.Jones.SR.– The American Experience: From Roots to Rap, A Musical Celebration of History and Diversity. Long-time musical partners, Watroba and Jones, will present music that reflects history, social change, migration, hopes, and dreams. This is music that is rich and diverse, direct, and powerful. This is a musical seminar – not to be missed!
Rev. Robert Jones, Sr. is a native Detroiter and an inspirational storyteller and musician celebrating the history, humor, and power of American Roots music. His deep love for traditional African American and American traditional music is shared in live performances that interweave timeless stories with original and traditional songs. An award-winning multi-instrumentalist, he is accomplished at guitar, harmonica, mandolin, banjo, and fiddle. He has recorded six albums of original and traditional songs in addition to his solo performances, he often collaborates musically with singer-songwriter Matt Watroba. 
Matt Watroba is known as a veteran performer, radio host, songwriter, educator, and a founding member of the National Folk Alliance. Matt sings and writes songs of compassion, inner strength, humor, and everyday living. As an award winner and has a long list of credits, many prestigious folk festivals in the USA and Canada. He sings songs that you will feel and remember for a long time. Together with his life-long musical partner, Rev. Robert Jones, Matt founded the Detroit nonprofit, Common Chords, and performed for hundreds of school and community presentations throughout the Great Lakes Region.  You will love their music and the journey that their music will take you on.
To watch the show:
Youtube – https://www.youtube.com/watch?v=MRacVT6YgEI&feature=youtu.be
Facebook – https://www.facebook.com/mustardsretreat/live/
 Those on the Linden Tree Coffeehouse email list will also receive the show's easy link a few days before. The links will also be posted on our Facebook page and our web site. If you like to be added to the Linden Tree email list, request at LindenTree85@comcast.net. Include your name and email.
Although we cannot charge admission to these shows, it is expected that viewers would donate what they can. Usually, Linden Tree Coffeehouse charges $20 for adults and $10 for those under 18 years old. Our performers have bills to pay and most of their live concerts since last March were canceled for the year. There is much uncertainty when live shows will resume. So be generous if you can, by donating $5 or $10 to their Pay Pal accounts or send in a personal check to Linden Tree Coffeehouse with a note for the performer and they will get sent to them. 
We thank the Massachusetts Cultural Council, Wakefield Chapter, for supporting the concert series that has allowed us to bring quality programming to our community. We also thank The Ivy Chord Coffeehouse for their help in bringing this special show to our area.
For more information: www.LindenTreeCoffeehouse.org, or LindenTree85@comcast.net, 781-246-2836