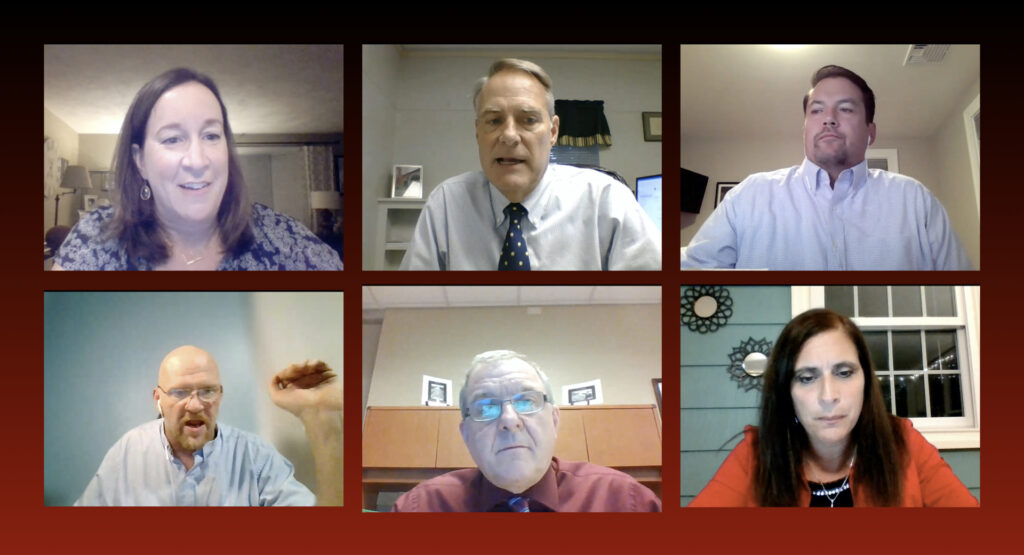 Reading, MA — As Reading schools prepare to open on Tuesday, final plans for the reopening dominated the School Committee meeting on September 10. Central office staff and Reading Memorial High School (RMHS) Principal Kate Boynton each took about 30 minutes to show the committee what has been done to prepare for the coming weeks. Most Reading Public Schools students will be starting the school year in remote learning.
Boynton began by sharing regarding the "rich array" of professional development that has occurred in the past ten days. She also said that students have been emailed, schedules have been distributed, and counselors have met with most incoming grade, nine students. "Naturally staff are a little nervous, but their nervousness is overcome with excitement and eagerness to see students," Boynton commented.
Days for RMHS students will begin with a ten-minute community time on Mondays-Thursdays. The two-week add/drop period for classes will be maintained as well.
Director of Student Services Jennifer Stys began her presentation reflecting on lessons learned in the Extended School Year Program this summer. Thirty-five students experienced this program in-person this summer, with another 194 receiving support remotely. Stys shared that the development of remote all-staff meetings for special education staff has been a positive result of the COVID-19 situation. She also confirmed that program descriptions are expected to be completed by mid-October.
Assistant Superintendent for Teaching and Learning Christine Kelley gave more detail regarding the ten days of professional development that teachers and staff have participated in to begin the school year. Highlights include training in social and emotional learning, equity training and discussions, and a technology kick-off. Kelley also highlighted new tools for teachers that have been purchased to help make remote learning more "robust." These include the online engagement tools, Edpuzzle, and Seesaw. "Our teachers are setting up two, maybe three classrooms, one in-person, one satellite, and one remote," Kelley commented.
Kelley mentioned that 28 kindergarten students have opted for full-remote learning for the year and will be split into two sessions daily with a dedicated teacher. She also shared that extended day programs will be available for students who are in-person at school.
School Committee member Thomas Wise asked about how students will "catch-up" from the spring. Kelley jokingly responded that she will be "banning" the term "catching-up." She then said that the district will be required to follow state standards in the coming school year and that skills that should have been covered last year that were not taught to mastery, will be taught to students as needed.
"New concepts were presented in the spring, but not to mastery level," Kelley stated. "You start with meeting students where they are and then move on to higher-order skills." She continued. "Most students in the state are in a similar place."
District Chief Financial Officer Gail Dowd began reporting that the modular classrooms will be delivered to Birch Meadow Elementary School on Friday. She continued that they are "on target" to be ready for Columbus Day.
Dowd continued describing the facilities preparations that have been made for the beginning of school including classroom set-up and health and safety precautions. Dowd reported that the district has received two COVID-19 related grants, one for $98,000 and the other for $894,000. These are to be spent on COVID-related expenses that are not previously budgeted for, including Personal Protective Equipment, technology, and cleaning. The larger sum is a grant from the federal government and must be spent with items in-hand by December 31. Dowd shared that the money has been earmarked for "strategic one-time items."
Superintendent John Doherty reported, "We are as prepared as we are going to be to start on Tuesday." He extolled the teamwork and collaboration of all the school district staff. "Without all of them, none of this gets done," Doherty said.
Doherty then shared that there are still seven teaching, six tutor, and twenty paraeducator positions to be filled for the coming year. The seven teacher positions do not include teachers that are beginning the year teaching remotely but will not be able to continue for health and other reasons once the hybrid model is phased-in. "The [candidate] pool is very thin. Every school district is going through this." Doherty shared.
Doherty continued to report that the hybrid model will be phased in "once staffing is filled at a particular grade level across the district." According to Doherty, local and state-wide medical information will also be monitored. "The biggest delay is the 26 paraeducators and tutors," Doherty stated. Grade one will be the first grade phased into the hybrid model, followed by middle school students. "We are close with grade one." Doherty shared.
Memorandums of Agreement (MOA) have been reached with the teachers union, the paraeducators union, and the cafeteria workers union. "Only a handful of communities have MOA's with their unions," Doherty exclaimed.
Much discussion was dedicated to the issue of not opening playground equipment during recess. Doherty expressed concern over the logistics of maintaining distancing and other health and safety measures for students while on playground equipment. "The supervision piece is what I am primarily concerned about," Doherty commented. He also shared that Department of Elementary and Secondary Education guidelines call for playground equipment to be cleaned and disinfected daily, if in use, which would cost $4,000 a week.
Wise offered a motion to pursue the funding, possibly from Finance Committee reserves, to open playground equipment if it can be done safely. "If there is a way to get creative and open the playgrounds, we should look into it." School Committee member Shawn Brandt offered. Member Erin Gaffen agreed, "Recess is going to be more important than ever this year." The committee voted 6-0 to approve the motion. "I don't want [funding] to be the reason it is not happening," Wise stated.
The School Committee voted 5-1 to allow students who are learning in both the remote model and the hybrid model to participate in sports and extracurricular activities and to reduce the sports fee from $325 to $250, reflecting the anticipated shorter seasons. Member John Parks was the dissenting vote. Given the late hour, the committee also voted 6-0 to table its book discussion until the next meeting.
The School Committee adjourned at 10:55 pm.