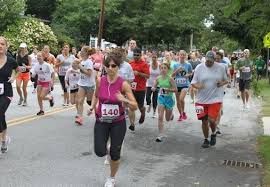 Reading, MA — This Sunday is Reading's 11th Fall Street Fair and the day kicks off with a 5K road race. This moderate course runs through Reading neighborhoods and children are welcome. The race begins with a pre-race warm-up at 8:15 AM at Washington Park with the race start at 8:30 Am. Bibs are $30 and there is still time to register and participate. 
Lori Haverty of Tread on Linden Street, Tread on the Mill on High Street and, her newest location, Tread on East in Winchester, is once again coordinating the race sponsored by Salem Five. "I am happy to be planning a family race at the Street Faire and happy to welcome Salem Five as the road race gold sponsor. We are looking forward to families running together in this annual family-friendly community event," said Haverty. "While we hope for a cool September morning, this event is rain or shine. Besides, running in the rain is fun!"
The fun continues in the afternoon with the second Annual Cornhole Classic Tournament held in the Rite Aid lot on Haven Street in the middle of the fun. Grab a friend, plan a team with your neighbors and register. In addition to bragging rights, winners enjoy over $500 Cash prizes and gift cards for 1st, 2nd, and 3rd Place. The tournament will be Double Elimination Style with official scoring and brackets. All players get free entrance to the tailgate and beer tickets. Registration is online and it's sure to be a fun afternoon. 
Registration and more information about these events may be found online at http://www.fallstreetfaire.com/ or by emailing info.readingfallstreetfaire@gmail.com All event proceeds will be donated to the Rotary. Reading Rotary supports many vital community concerns including the Reading Food Pantry; Reading Scholarship Foundation; purchase of a wheelchair accessible van for elderly and disabled residents; providing reading books to Reading Kindergartners; distributing trees to all Reading 5 graders for Arbor Day; Adopt a Family and much more.