September 28th at 8pm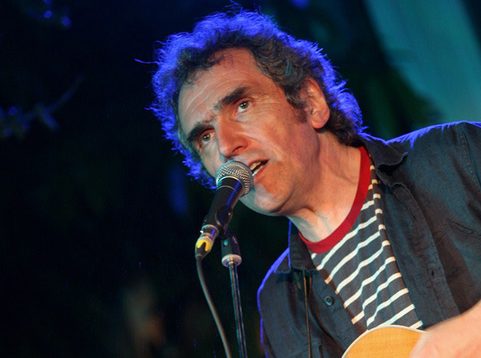 The Linden Tree will open its 35th season of monthly acoustic music on Saturday, September 28 at 8 pm. The show will feature an encore performance of England's finest songwriters, Jez Lowe.
Jez Lowe has long been one of the UK's busiest folk performers, playing for audiences the world over, either solo, (with guitar, cittern, and harmonica accompaniment), or with his band The Bad Pennies. His Men At Words tour of North America saw Jez joining forces with James Keelaghan and Archie Fisher for much-acclaimed concerts across Canada and the USA. And as part of The Pitmen Poets (with Bob Fox, Benny Graham, and Billy Mitchell), Jez has helped to rekindle the fire in the tradition of mining songs and culture of his native region in a series of sell-out theatre performances around the UK.
 Recently, Jez published CORLY CROONS, a novel that delves into the background of the circle of songwriters who came to be known as The Bards of the Tyne. Jez unravels the mystery that lay beneath the comic songs and gentle ballads of that time.
 Over the last couple of decades, the likes of Fairport Convention, Cherish The Ladies, Tom McConville, The Clancys, and scores more, have queued up to adopt his songs for their own repertoires. No wonder no less than Richard Thompson has called him "The best singer-songwriter to come out of the UK for a long time", and personally invited him to play at Thompson's Meltdown Festival at London's South Bank Centre in 2010.
 Jez Lowe's contributions to the on-going BBC Radio series The Radio Ballads has cemented this reputation, with a Sony Radio Award among the many accolades coming its way. The project culminated in a live BBC Radio 2 broadcast In November 2018 to commemorate The Great War Centenary that featured Jez alongside the BBC Philharmonic Orchestra and narrator Michael Morpurgo. 
 As BBC Radio DJ Mike Harding said recently, "No-one else writes or sounds like Jez Lowe", and chances are, even if you've never heard the man himself, you'll have heard his songs, sung at festivals, club-gigs, open-mikes or on CD, by the great and good, the professional and the enthusiast, the young and not-so-young. What higher accolade could a songwriter hope for?
 Tickets are $20 (WUMB members $2 off when showing your card.) Those under 18 are $10. Reservations are being taken by phone 781-246-2836. Homemade baked goods are available before the show and during intermission. Doors open at 7:30, show at 8. 
The Linden Tree is located in the social hall of the Unitarian-Universalist Church of Wakefield, 326 Main St. Wakefield. Parking is on-street or at conveniently located town parking lots on Lafayette St. and off Main St.
For more information:  www.LindenTreeCoffeehouse.org.