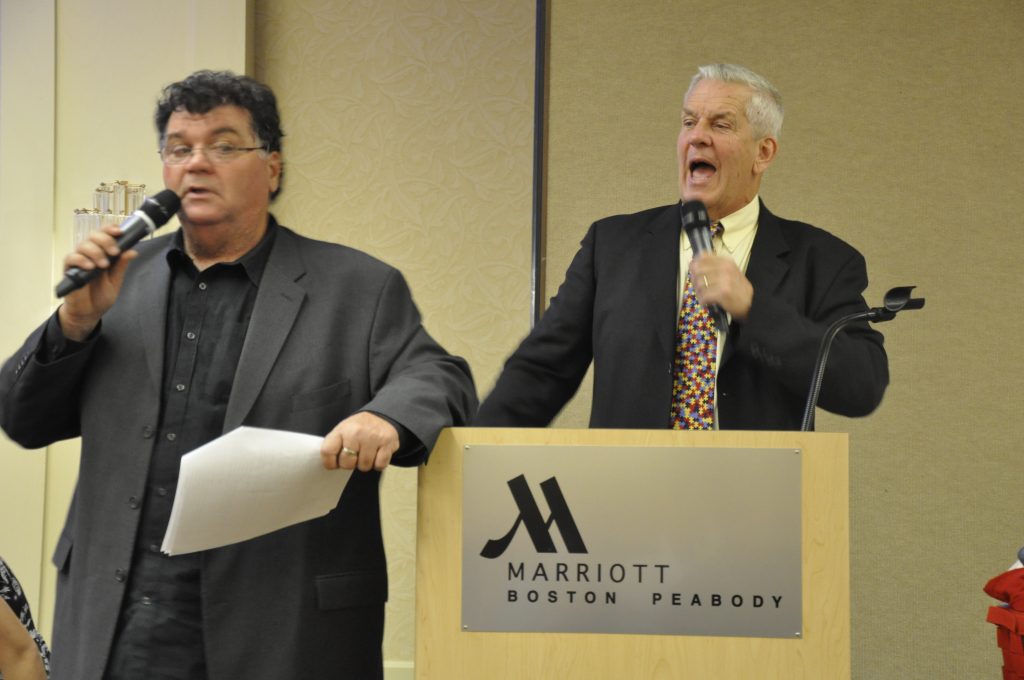 EMARC is holding its 22nd annual Gala Dinner and Auction on Monday, November 14th at the Boston Peabody Marriott at 5:00 PM. This exclusive event is EMARC's biggest fundraiser and raises funds for adults and children with intellectual and developmental disabilities.  
This popular event brings in over 300 people including celebrities and corporate and community leaders. This year's theme is "Creating a Wonderful Life" based off of Frank Capra's classic film, It's a Wonderful Life.  
The event will kick off at 5:00 PM with live and silent auctions, tasting stations from 20 local restaurants, mystery bags sales, and a wine pull.  The live auction will begin at 7:30 with celebrity auctioneers Lenny Clark, Steve Sweeney, Tony V, and Phantom Gourmet's Dave Andelman.  WROR's Hank Morse will serve as the Gala's emcee.  Morse says "What I love about it is the selflessness of the people that support EMARC. These people are from all walks of life, whether you have a brother or sister or relative who's benefitted from EMARC or you're a friend of the family. Once you get here, you can't leave." Added Morse, "The love that's in the room each year, the spirit, it makes you want to come back."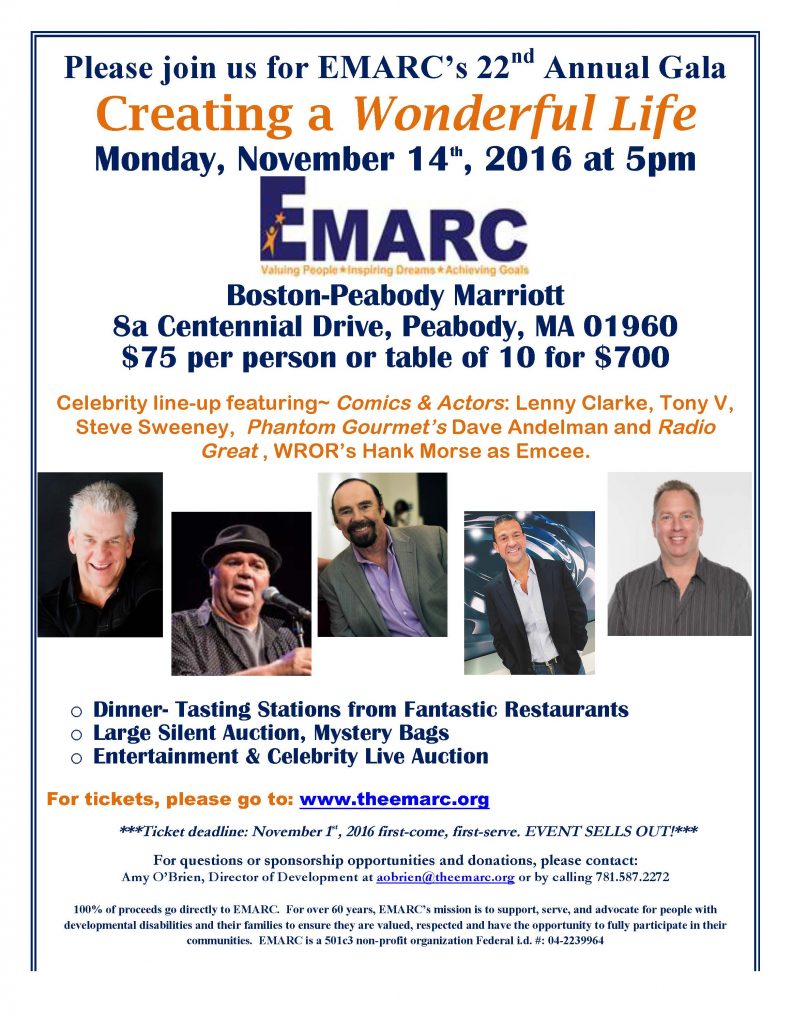 Tickets cost $75 per person or a table of ten for $700.  Tickets are available now at www.theemarc.org.  The event does sell out each year and tickets are available on a first-come, first-serve basis.  For more information on EMARC and the Gala, please visit EMARC's webpage.  100% of the proceeds go to EMARC's programs which include Residential, Day Services, Life Choices, Recreation, Adult Foster Care and many more.  
EMARC's Director of Development & Marketing, Amy O'Brien, adds "We were thrilled at how many local businesses, and individuals, are coming out to support this year's Gala. "This is our biggest fundraiser of the year.  We are so grateful to all of the donors, sponsors, volunteers.  We would also like to thank our Tucker Gala Chairman John Mitchell of CAM Media for his generosity and selflessness for the past 21 years".  
This event was started almost 22 years ago by Richard "Dick" Tucker.  It started off as a small breakfast and has transformed into a large Annual Gala raising almost $100k per year.  
EMARC is thrilled to see this event take form as it is shaping up to be yet another successful gala. We hope that you are able to help us create a wonderful life for our friends with intellectual and developmental disabilities!
ABOUT EMARC:
EMARC is a 501c3 non-profit charitable organization that supports individuals with developmental disabilities. For over 60 years, EMARC's mission is to support, serve, and advocate for people with developmental disabilities and their families to ensure they are valued, respected and have the opportunity to fully participate in their communities. To learn more, see www.theemarc.org