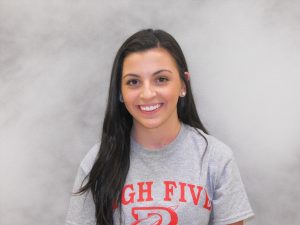 MORAN DAMON Class of '17
Moran Damon is being recognized for her excellence in athletics, activities, and service. Academically, Moran particularly enjoys the challenges of English, History, and Spanish. In fact, for her hard work and dedication, last year Moran was awarded the perseverance award in Spanish from the Foreign Language Department. Athletically, Moran is a 4 year member of the Girls Swim team and serves as one of the co-captains for the 2016-17 season. She has helped lead the Rocket Girls to an impressive 8-0 season with one meet to go tomorrow night against Belmont. Moran swims the 50 yard, freestyle, 400 free relay and 200 yard free relay and says that one of her proudest accomplishments was a recent near win against Division 1 powerhouse Acton-Boxborough. Moran helped the girls swim team earn the Middlesex League Championship title last season and hopes with a win on Saturday to repeat as champs this season as well. In other co-curricular activities, Moran has also contributed her time as a member of the Leo Club, Samantha's Harvest, and Girl Rising. Additionally, Moran finds time to volunteer at the YMCA, teaching swimming to children with disabilities. Next year, Moran will be attending college and pursuing a major in political science and communication. Congratulations, Moran!
---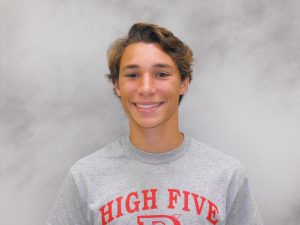 NATHAN PLANO Class of '17
Nathan Plano is being recognized for his excellence in academics and athletics here at RMHS. Nathan ranks in the top 10% and excels at and enjoys the challenges of both Calculus and Physics. Last year, Nathan received the scholarship award in Physics from the RMHS Science Department. Nathan loves learning in general and will be taking his curiosity to Brown University next year to major in engineering. Athletically, Nathan is a 4 year member of the Boys soccer team and is currently one of the co-captains for the 2016-17 season. Playing the center midfield position, he helped the Boys soccer team qualify for the state tournament this past week. Another recent highlight this season for Nathan, was battling undefeated Winchester who had a 16 and 0 record to a 0-0 tie, breaking their previously unbeaten streak. Nathan will be taking his soccer talents with him to play at Brown University next season. Nathan has also played varsity tennis for two years and finds time in the summers to teach tennis to children between the ages of 5 and 12 at Meadow Brook Golf Club. Congratulations, Nathan!