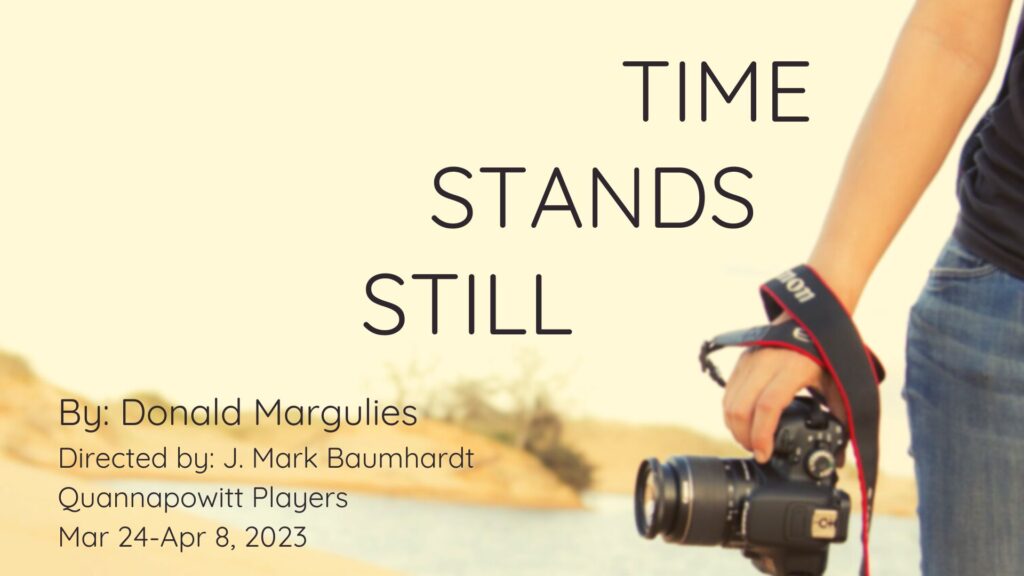 March 24-April 8
War photojournalist Sarah and foreign correspondent James share a partnership based on telling the toughest stories, and together, making a difference. But when their own story takes an unexpected turn, the adventurous couple grapples with the prospect of a more conventional life. A visit from their long-time friend Richard and his new girlfriend Mandy throws things in stark relief for the couple. The New York Times raved, "(the) dialogue crackles with bright wit and intelligence…the range of feeling it explores is wide and deep." Pulitzer-winning playwright Donald Margulies' "insightful writing (is) layered with an intriguing seriousness that inspires discussion after the curtain comes down," (Associated Press).
Directed by J. Mark Baumhardt and featuring Sara Jones, Casey Preston, Chris Cardoni, and Sabrina Cylie, "Time Stands Still" will open on Friday March 24 and run through April 8.
The 2022-23 Season continues to be a special one for the Quannapowitt Players as the company in "little red schoolhouse" celebrates 85 years of community theater in Reading! From their first production in 1938 – "The Bishop Misbehaves" – to this season's line-up, QP has been a part of the Reading arts scene longer than most of its residents have been alive.
Single tickets are $25, $23 for Seniors/Students, and can be purchased online at www.qptheater.com/box-office/. Or for reservations call the QP Box Office at (781) 942-2212. Only checks and cash are accepted at performances.
Friday and Saturday performances are at 8PM. Sunday performances are at 2PM.
Though masks are no longer required while in the theater, they are strongly encouraged. QP's full COVID policies can be viewed here: https://www.qptheater.com/covid-19-policies/