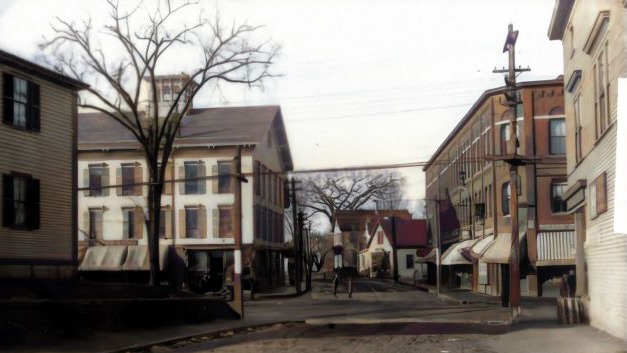 We are looking back at the happenings of Reading using the Digital Archives of the Reading Public Library. The following news items were published in the Reading Chronicle.
10 Years Ago – 2013
Reading Public Library will host "School Days" for students and teachers that attended the Highland Elementary School. The school closed in 1980 and became the public library in 1984. 2/19/2013
Reading's state senator Katherine Clark announces that she intends to run for Congressman Markey's seat if he is elected to the US Senate. 2/19/2013
The Community Planning and Development Commission approved the plans for Portland Pie Company at 54 Haven Street. 2/20/2013
Assistant Town Manager Robert LeLacheur is one of three finalists for Town Manager. Current Town Manager Peter Hechenbleikner announced he will be retiring on June 1, 2013. 2/27/2013
15 Years Ago – 2008
Late Tuesday morning Sovereign Bank at 228 Main Street was robbed. The robber passed a note demanding money and claimed he had a weapon. Gataway car was later found outside Harrows Restaurant. 2/20/2008
Trees along Main Street in Reading Square have been removed in recent weeks in preparation for the downtown reconstruction project. The traffic "dummy" will also be removed. 2/21/2008
Friends of Reading Recreation held their third annual REI family hike at Bare Meadow. The hike began at the new Mattera Log Cabin and lasted roughly 45 minutes. 2/22/2008
Selectmen are against the proposed MWRA water tank relocation from their current location to the route 128/28 area. If built, the tanks would be 120 feet in diameter and 185 high. 2/27/2008
25 Years Ago – 1998
School Building Committee recommended an addition and renovation at Coolidge middle school in order to address enrollment and educational needs. 2/19/1998
As a 1.6M deficit remains, Town Manager Peter Hechenbleikner explains the budget crunch at the most recent Selectmen Meeting. 2/20/1998
Mild winter depletes DPW's snow budget. The $187,000 budget has been exceeded by $60,000. 2/23/1998
Historical Commission holds an informational meeting on the proposed dismantling/demolition of the circa 1710 Foster-Emerson House on Grove Street. 2/27/1998
50 Years Ago – 1973
Drug thieves ransack Willis Pharmacy sometime after midnight on Wednesday. 1/24/1973
Effective today March 1, 1972, the drinking age has been lowered from 21 to 18 years of age. 3/1/1973
The dog officer Marden reports he has two male golden retrievers in "detention" One was picked up on Dividence Road, the other on Howard Street. Owners are asked to contact Mr. Marden. 3/1/1973
Three girls riding horses at Memorial Park last Thursday were asked by police to leave because of damage to the soft turf. 3/1/1973
A Somerville driver lost control of his car Friday night and crashed through the door and window of Mr. Tire at 357 Main Street. Both car and building were extensively damaged. No injuries were reported. 3/1/1973
75 Years Ago – 1948
Reading Municipal Light Department spring appliance sale. New 1948 models – Electric ranges – various models $169.75 – $324.75 25 Haven Street. 2/19/1948
The Post Office starting a new route system will result in more frequent deliveries. 2/26/1948
After 30 years of business and 50 years in the trade, W.C. Ainsworth closes his heating contractor and repair shop located in Lyceum Hall block. 2/26/1948
Reading High School pupils will appear in the All-State High School Orchestra with a concert of classical music at Symphony Hall on March 6. 2/26/1948
The preservation of antique group of the Reading Women's Club held a meeting featuring local glass collections. Mosaic glass from the 70s and 80s was displayed. 2/26/1948
100 Years Ago – 1923
Rich's Market – Corned Flank 8¢ per lb. | Corned Shoulders 16¢ per lb. | Home-Made Sausage Meat 28¢ per lb.