Enjoy a night of comedy with the Reading Lions on March 11!
March is a long month—a laugh will help you get through! The Reading Lions Comedy Night returns to The West Side Social Club with 3, count 'em, 3 comics on March 11.
We're thrilled to present some of the funniest comics in the area, including a Boston favorite, Paul Gilligan, as well as Carolyn Plummer and Dave Rattigan. Bring your family, neighbors, and friends to enjoy a night of laughs, raffles, BYOF, and a cash bar. The evening's proceeds go to Lions charities that support our community via the Food Pantry, scholarship fund, wellness exams, vision care, and more.
Tickets are available at ReadingLions.org, from ScampsComedy.com, or from your friendly Reading Lions Club member. Tickets are $25 each, tables seat 8 for $200. Mark your calendar and we'll see you there!

The Reading Lions Club has proudly served the community of Reading and other surrounding towns for more than 75 years. Our fundraisers support Mass Lions Eye Research, Reading Food Pantry, and many others. There are few feelings in life that are as great as being able to help those in need, and to do it with a fun, dedicated group of club members makes it all the more enjoyable. If you are interested in learning more about us please contact Marla Clough- mclough410@gmail.com.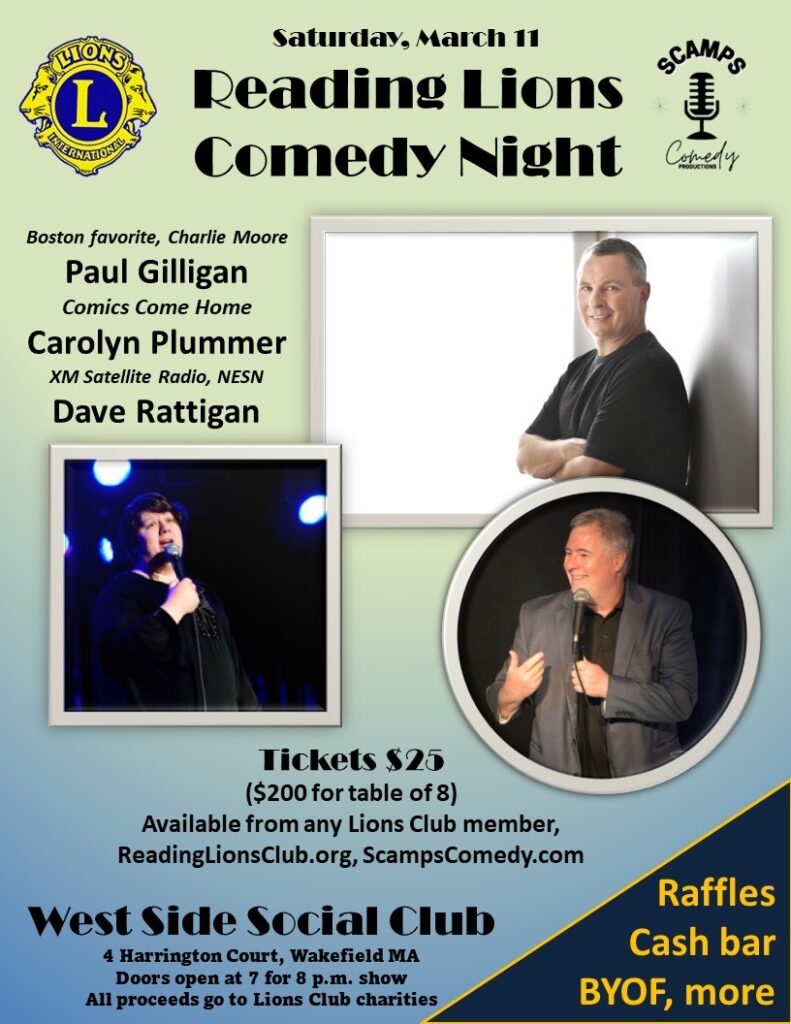 Reading Lions Club | P.O. Box 66 | Reading, MA 01867 | readinglionsclub.org