"The best of what memoir can accomplish… pulling no punches on the path to truth, but it always finds the capacity for grace and joy." –Esquire, "Best Memoirs of the Year"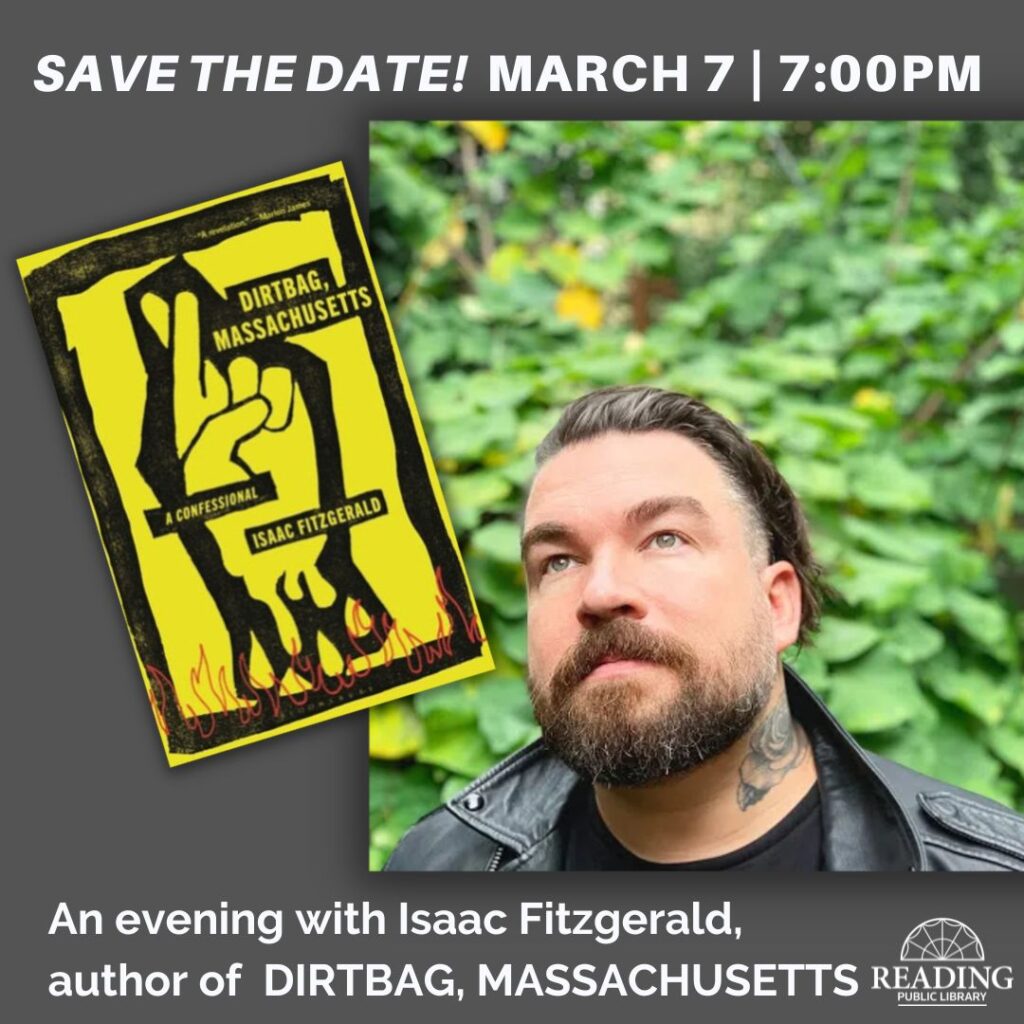 Reading Public Library, (RPL) Reading, MA— You don't want to miss this very special author event! Fitzgerald's new memoir-in-essays Dirtbag, Massachusetts, begins with a childhood that moves at breakneck speed from safety to violence, recounting an extraordinary pilgrimage through trauma to self-understanding and, ultimately, acceptance. From growing up in a Boston homeless shelter to bartending in San Francisco, from smuggling medical supplies into Burma to his lifelong struggle to make peace with his body, Fitzgerald strives to take control of his own story: one that aims to put aside anger, isolation, and entitlement to embrace the idea that one can be generous to oneself by being generous to others. The discussion will be moderated by Reading's very own Daniel Ford, host of The Writer's Bone Podcast.
Fitzgerald appears frequently on The Today Show and is also the author of the bestselling children's book How to Be a Pirate as well as the co-author of Pen & Ink: Tattoos and the Stories Behind Them and Knives & Ink: Chefs and the Stories Behind Their Tattoos. His writing has appeared in The New York Times, The Atlantic, Esquire, The Guardian, The Best American Nonrequired Reading, and numerous other publications. He is Boston-born, raised in Athol, and currently lives in Brooklyn, N.Y.
The Reading Public Library is hosting this event with a coalition of libraries from throughout the Commonwealth of Massachusetts.
This live online event will be held on the platform Crowdcast. To register, visit: https://bit.ly/dirtbagmass. Contact the library at rdgref@noblenet.org or 781-944-0840 for assistance or other questions.
Acclaim for Dirtbag, Massachusetts
NEW YORK TIMES BESTSELLER
USA TODAY BESTSELLER
Winner of the New England Book Award for Nonfiction
A TIME Must-Read Book of the Year * A Rolling Stone Top Culture Pick * A Publishers Weekly Best Memoir of the Season * A Buzzfeed Book Pick * A Goodreads Readers' Most Anticipated Book * A Chicago Tribune Book Pick * A Boston.com Book You Should Read * A Los Angeles Times Book to Add to Your Reading List * An Entertainment Weekly Best Book of the Month
This series is generously sponsored by The Friends of the Reading Library
❦
The Reading Public Library is committed to evolving together to strengthen communication, equity, collaboration, and learning in our community. Our mission is to be a center and resource for learning and civic engagement. We provide a place and platform of, by, and for the people who can benefit as individuals as well as contribute to the well-being of the community. We work to achieve these goals and commitments by focusing on education, equity, accountability, and access.