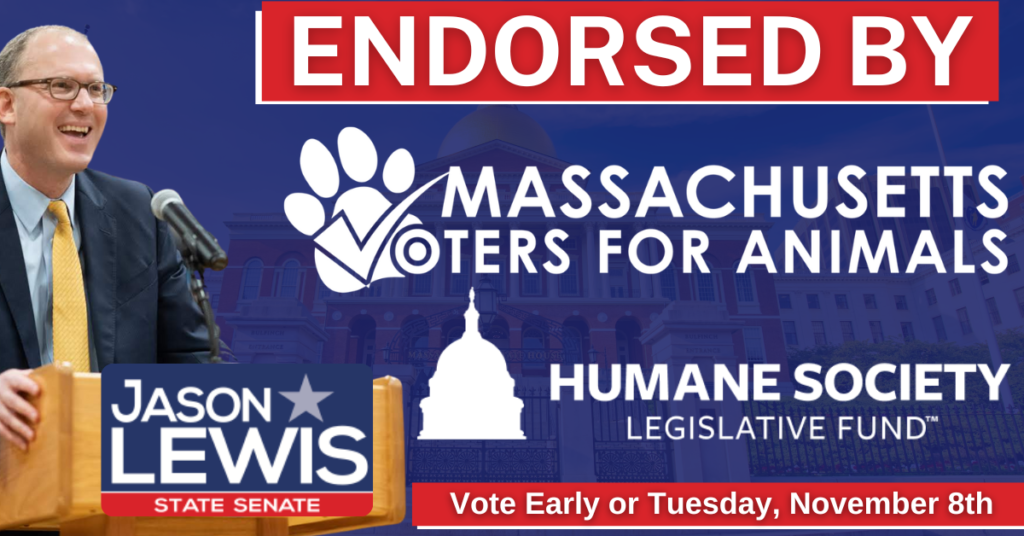 BOSTON, MA – State Senator Jason Lewis is proud to be endorsed for re-election by Massachusetts Voters for Animals and the Humane Society.
Senator Lewis has long been a champion for preventing animal cruelty, and has helped pass numerous animal welfare laws, including protections for pets, farm animals, and animals used in research labs.
"State Senator Jason Lewis has been a consistent champion for commonsense animal protection legislation in Massachusetts," said Brad Pyle, political director of the Humane Society Legislative Fund. "We encourage voters who care about the humane treatment of animals to enthusiastically back his re-election."
"As an animal welfare advocate and pet owner, I'm committed to doing everything we can to prevent animal cruelty and ensure that animals are treated humanely in Massachusetts," said Senator Jason Lewis. "I'm proud to work alongside Mass Voters for Animals, the Humane Society, and other animal welfare organizations."
Senator Lewis has represented the Fifth Middlesex District in the state Senate since 2014. He will be facing Republican Ed Dombroski in the November election.
To learn more about Senator Lewis' positions on issues and his accomplishments for the district and the Commonwealth of Massachusetts, please visit electjasonlewis.com.