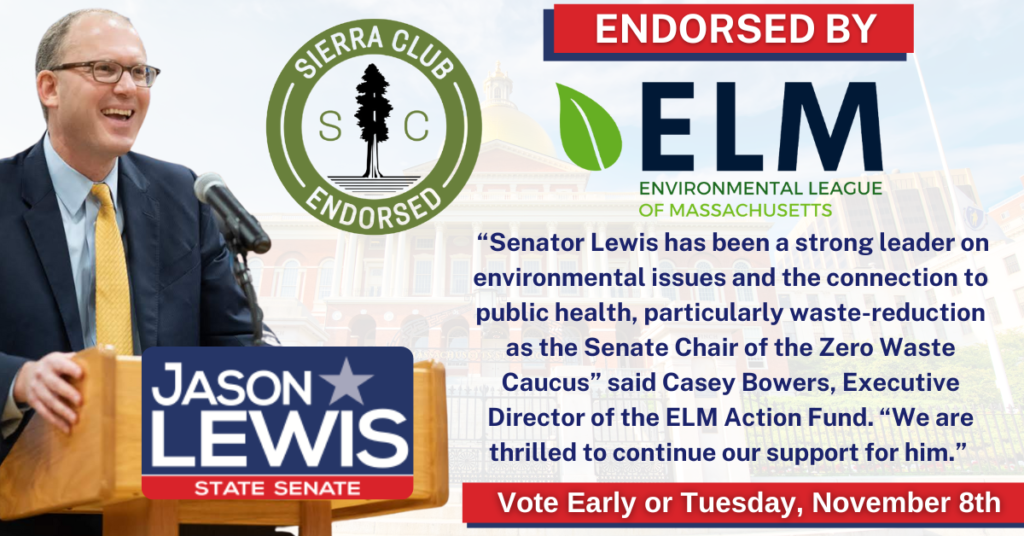 BOSTON, MA – State Senator Jason Lewis is proud to be endorsed for re-election by the Massachusetts Sierra Club and the Environmental League of Massachusetts Action Fund, two of the leading organizations advocating to protect the environment and combat climate change in Massachusetts.
"Senator Lewis has been a strong leader on environmental issues and the connection to public health, particularly waste-reduction as the Senate Chair of the Zero Waste Caucus" said Casey Bowers, Executive Director of the ELM Action Fund. "We are thrilled to continue our support for him."
"Jason Lewis consistently champions legislation to combat climate change and support environmental sustainability. He is also leading efforts to reduce the use of single-use plastics and other waste," said Mimi Locke, Political Chair of the Sierra Club Massachusetts Chapter. "We strongly encourage voters to support him in the upcoming election."
"No issue is more important or urgent than addressing our environmental challenges and leaving our planet in better shape for future generations," said Senator Jason Lewis. "If re-elected I will continue to fight for bold policies to combat climate change, protect our environment, grow our state's clean energy economy like offshore wind power, and reduce waste, especially single-use plastics."
Senator Lewis has represented the Fifth Middlesex District in the state Senate since 2014. He will be facing Republican Ed Dombroski in the November election.
To learn more about Senator Lewis' positions on issues and his accomplishments for the district and the Commonwealth of Massachusetts, please visit electjasonlewis.com.