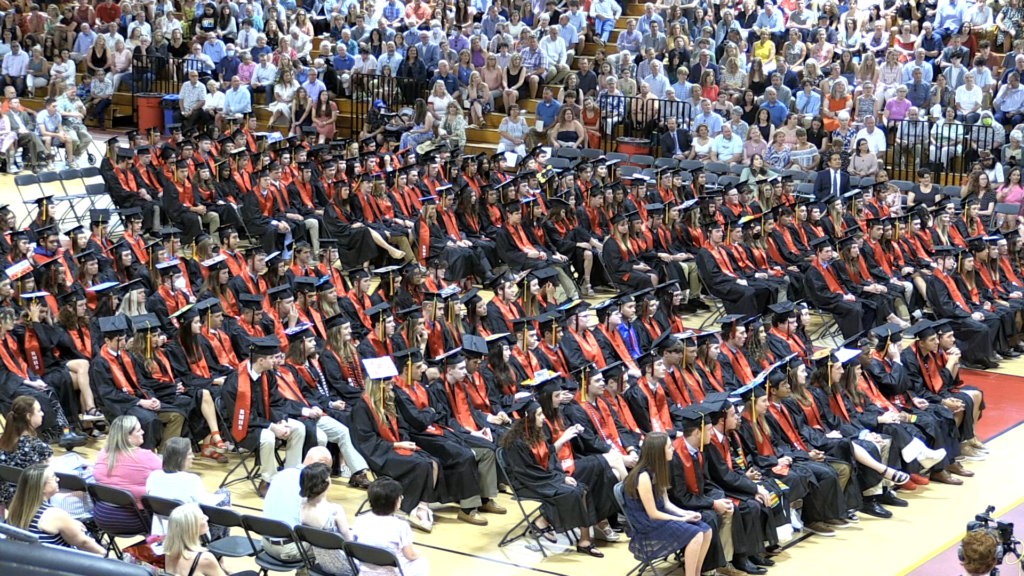 The Class of 2022 Graduation Ceremony was held Sunday, June 5, 2022, at the Walter Hawkes Field House.
Class President Connor Patterson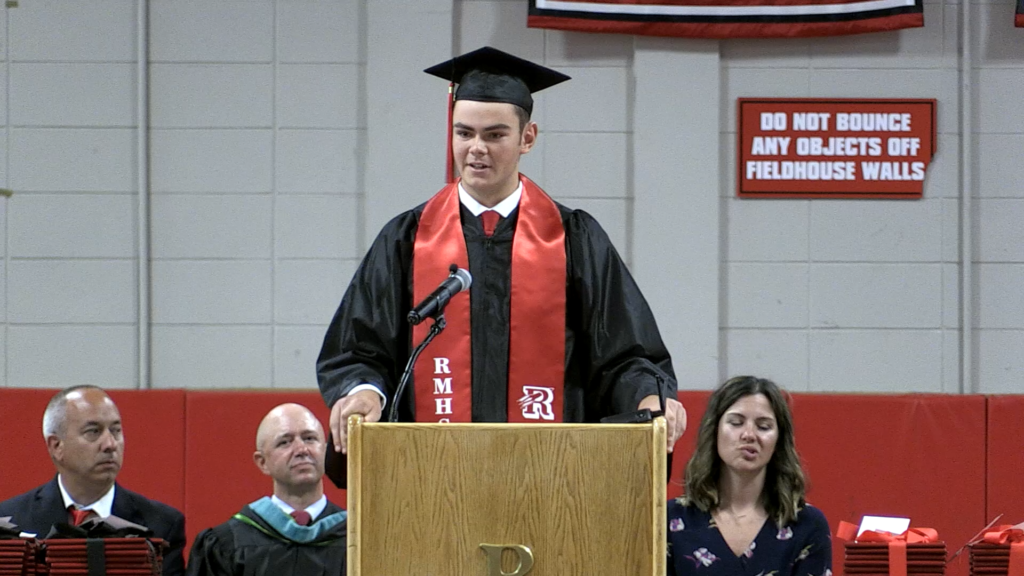 I'd like to start off by thanking those here today. Our superintendent, Dr. Milaschewski, our Principal Mr. Tracey, our assistant principal, Ms. Theriault and all administration, faculty, and staff, as well as family, friends, and others. And of course welcome the graduating class of 2022.
I struggled at first when I began to write this speech as I had no idea what I really wanted to say. I was reading through websites, seeing the same 5 quotes and the same cliche topics or themes over and over again but nothing stuck out to me. Then I realized what my problem was. How can I write a basic speech for my high school graduation when I had a far from basic high school experience. [Read More]
Salutatorian Address Ekaterina Brechko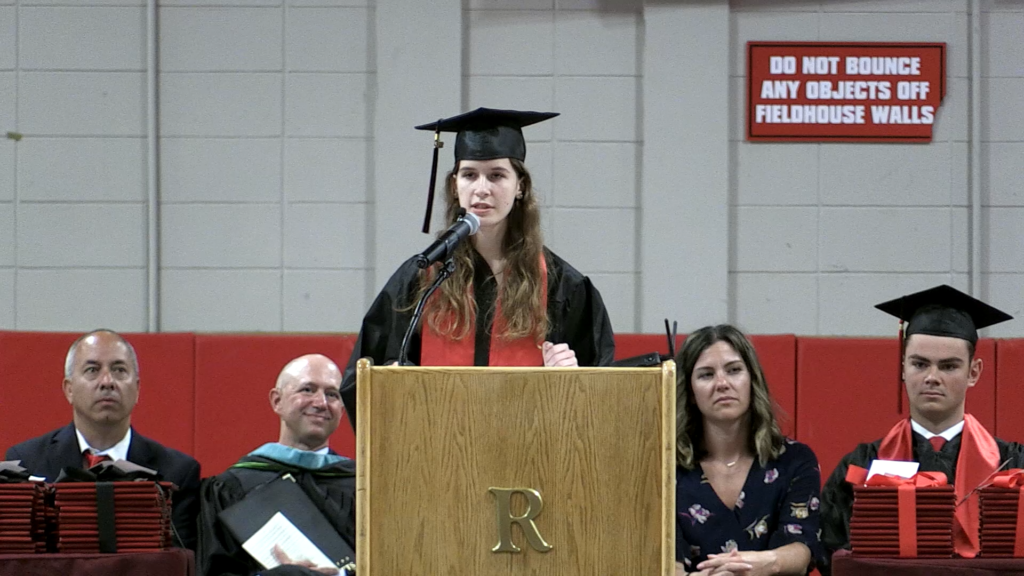 Hello, class of 2022, families, and Reading community! While it is an honor to address you all today, to me this situation is quite unexpected. Not only did I not expect to ever be given the honor to speak at graduation, but I also did not expect to be doing so in the midst of a global pandemic.
We all remember the early stages of quarantine life: only being able to see people from behind a mask and attending zoom classes in our pajamas. But covid brought more than just day-to-day quirks to our lives. In quarantine, I found it incredibly difficult to feel connected to others. I couldn't meet with my friends and communicating with teachers became difficult because it wasn't as simple as stopping by their classrooms to ask a question anymore. Quarantine certainly pushed our emotions into turmoil, but its effects lasted much longer than that initial period. [Read More]
Valedictorian Address Sara DiCostanzo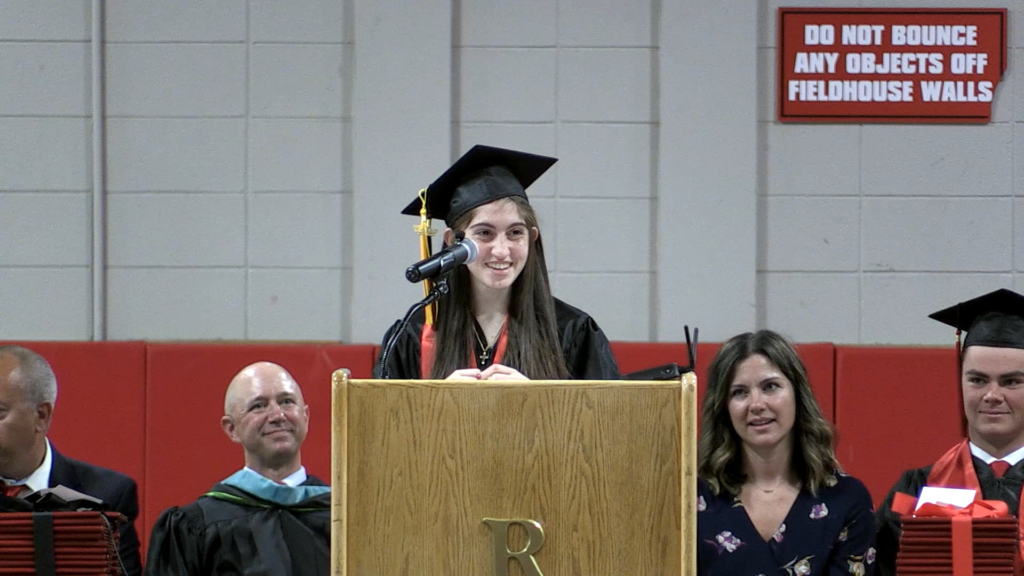 It's unbelievable to me that I'm standing here today as valedictorian, considering that I have spent so much of this year feeling like a complete idiot. This feeling first began to flourish in my calc class, as I spent the first few weeks of school absolutely bewildered, completely lost as the curriculum seemed to fly past me. Each class, I would frantically scribble down the notes, not processing a single word, then go home, and stare at the gibberish I had written, trying to make sense of it. I studied and studied, spent far too many hours sobbing over Khan Academy, growing increasingly terrified as I awaited the first test. When it finally arrived, I, who had never gotten a grade below a ninety, received a C. The night before that test, I had also submitted my first English essay. In plusportals, another C awaited me.
I want to clarify that these are not bad grades. But to me, they embodied all the confusion and distress I had been feeling, so, as a result, they felt catastrophic. I was trying as hard as I always had, yet I couldn't understand the material. I spiraled. I wondered how I could possibly survive the year. I thought immediately that I was too stupid for these advanced classes, and that I committed an incredible act of hubris to even for a second think that I wasn't. I felt like a failure. It was not even October of senior year, the supposed best year of high school, and I had nothing to show for it but two C's and an incredible feeling of worthlessness. [Read More]
Superintendent's Address Dr. Thomas Milaschewski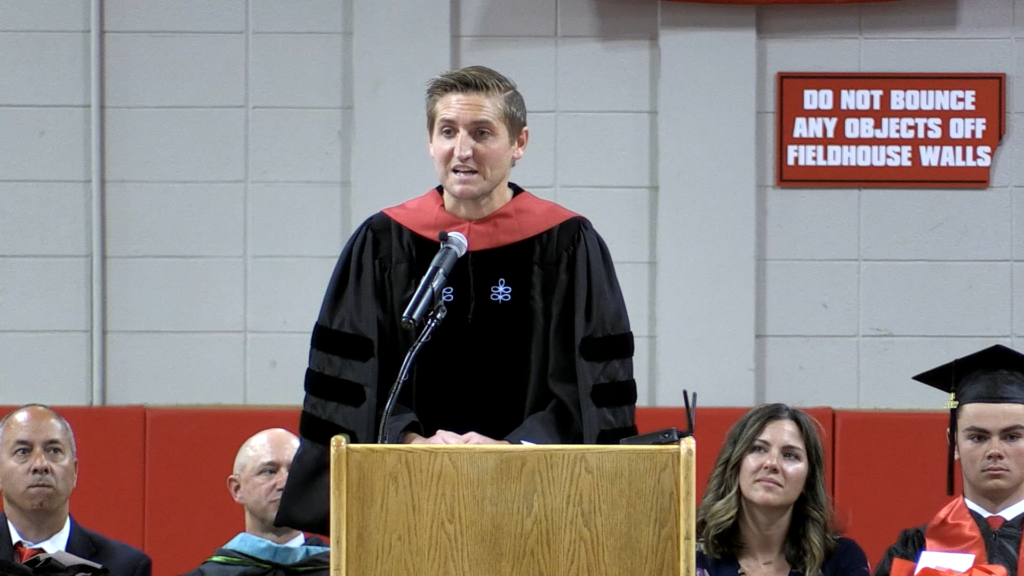 Good afternoon, Reading Community!
Members of the Reading School Committee, Principal Tracey, Faculty, Fellow Administrators, Distinguished Guests, Community Members, and most importantly, members of the Class of 2022 and their proud families and friends – it is an honor to stand before you today to congratulate our amazing RMHS class of 2022. To the class of 2022, this is your day – and on your day, I'd like to recognize two groups of people that have been instrumental in your path to graduation day.
First, to your families. Your families have been there for you since day one and have been by your side for your entire journey. They have supported you, believed in you, and served as your biggest cheerleaders. Please, take a moment today to thank and appreciate your families for all they've done for you. This, without a doubt, is one of the proudest and most memorable days of their lives. [Read More]
Principal's Address Mr. Kevin Tracey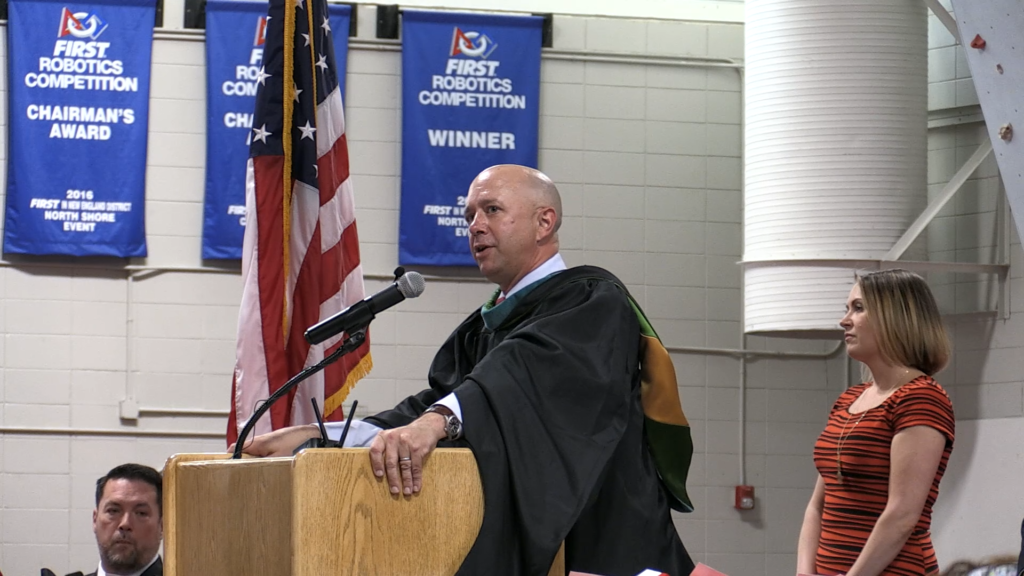 Good afternoon and on behalf of my leadership team, my main office team and the RMHS staff, we welcome you all to this year's class of 2022 RMHS Graduation ceremony. My name is Kevin Tracey, the proud Principal here at Reading Memorial High School. First graduation speech as a new principal- no pressure at all!
Since we have all been through this process together, I would like to begin by complimenting the parents and caregivers, families, friends, members of the Reading community, our School Committee, Superintendent Milaschewski and his central office team for all of their incredible support. In addition, I would like to acknowledge and commend the wonderful contributions made by our RISE preschool, our elementary and middle school staff in establishing a strong foundation and to my immediate colleagues at RMHS for working tirelessly to build on this base to prepare these students for the challenges that lie ahead. In particular, I would like to publicly thank our retiring RMHS staff members, Ms. Jane Shea and Ms. Sharon Burke and ask that they please stand to be recognized. [Read More]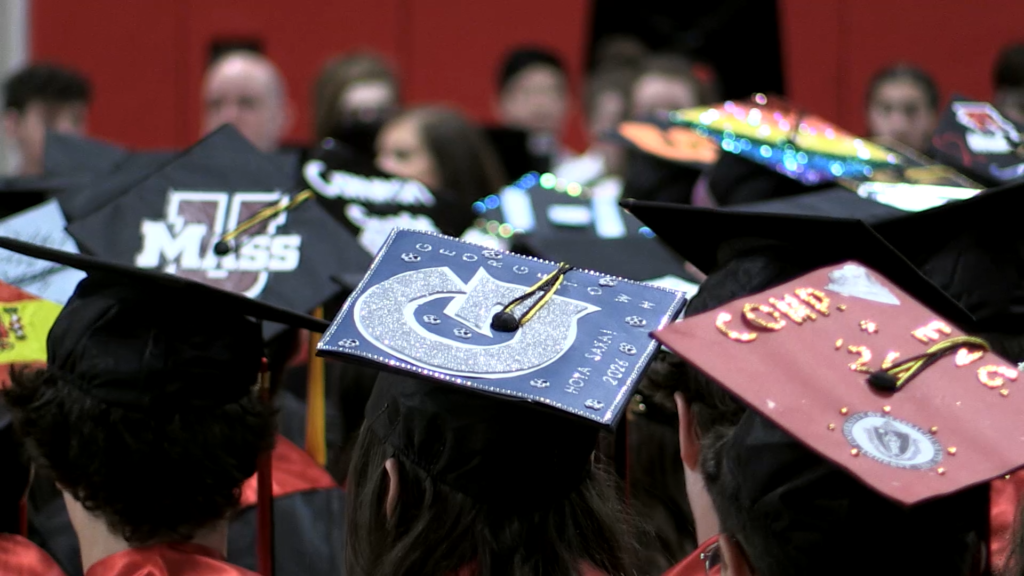 The RMHS Core Value Awards for Respect Recipients: Moise Anglade
The RMHS Core Value Awards for Responsibility Recipients: Julia Mullen
The RMHS Core Value Awards for Perseverance Recipients: Sion Abamba
The RMHS Core Value Awards for Scholarship Recipients: Dionysios Georgopoulos
The Band Parents Award, in memory of Joseph McGillicuddy, is presented to RMHS Marching Band members who have shown excellent musicianship, leadership, character and concern for others. Recipients: Lily Bennett, Norah Foley, Kevin Kinney, Benjamin Mini [Read More]