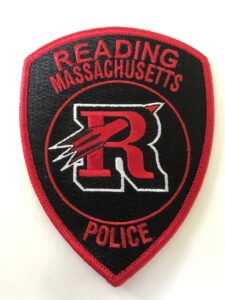 READING — Chief David Clark is pleased to announce that the Reading Police Department will be wearing special patches in June to show town spirit and recognize graduating high school seniors
The Reading Police Department is partnering with the Reading Food Pantry in this effort, and all proceeds from patch sales will benefit the pantry.
Seniors at Reading Memorial High School graduate on June 5.
"I am extremely proud of our Seniors who are getting ready for the next chapter of their lives, and graduating high school," said Chief Clark. "This program is a great way to bring the community together and show support for Reading Memorial High School students. The Reading Police Department would like to congratulate all seniors and wish them good luck in their future endeavors."
Each year, members of the Reading Police Department, including both School Resource Officers, will wear the special patch on their uniforms throughout the month to honor the students whose final school year was impacted by the pandemic. The patch is also available for $10 to members of the public.
"This is also a great opportunity to give back to the those in need," added Chief Clark. "The Food Pantry is a great organization and we are honored to be able to give back."
Donors who would like to receive a patch should send a self-addressed stamped envelope to Community Service Officer Kristen O'Shaughnessy at the police station, 15 Union St., Reading, MA 01867, along with a check for $10 or more made out to the Reading Food Pantry.
"We are fortunate to have such a strong partnership with the Reading Police Department," Superintendent Thomas Milaschewski said. "From serving food in lunch lines to providing comfort dogs to our students, to joining school-based events, the Reading Police Department is consistently involved in our schools and are deeply committed to supporting our students. The 'Rocket' patch is another fantastic example of the ways in which RPD invests in our schools and students."
For more information about the 'Rocket' patch program call 781-942-6761 or email CSO O'Shaughnessy at KOShaughnessy@ci.reading.ma.us.
For more information about the Reading Food Pantry click here.