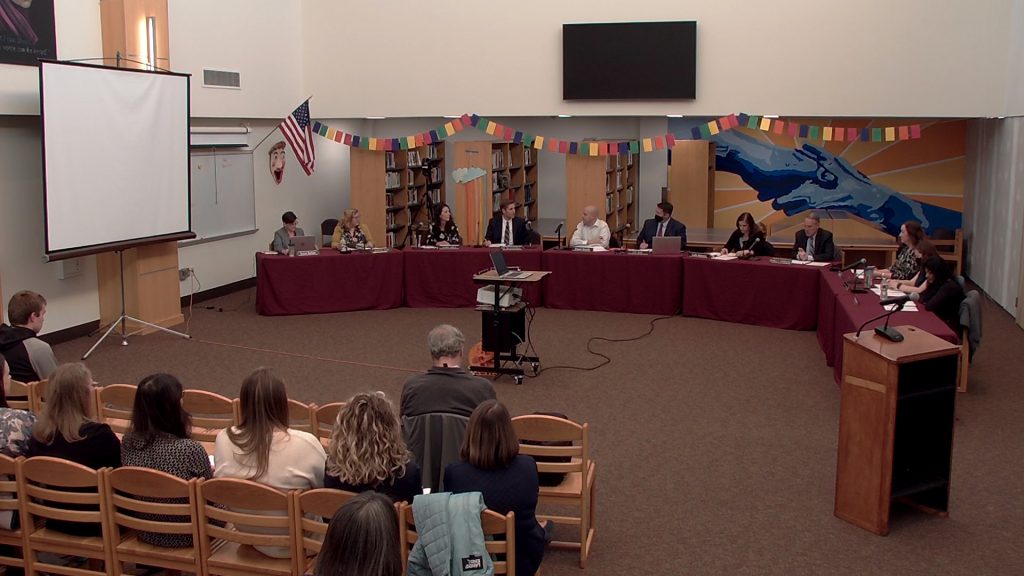 "If you want to invest in our kids, then invest," Wood End Elementary School Principal Joanne King challenged the School Committee on Monday night. "This group was tasked by you with finding a better way to improve literacy for our students, and they found it," King continued.
As part of the School Committee's "Reading in Reading" initiative, King was a part of a group of teachers who studied multiple literacy curriculums in preparation to present their choice for an updated curriculum to the committee. According to Assistant Superintendent for Teaching and Learning Sarah Hardy, their choice, ARCcore, is a comprehensive curriculum that builds on foundational skills, vocabulary, and grammar and includes independent practice time. Both Curate and EdReports highly rate it. "I was blown away by the level of student engagement," Hardy exclaimed.
The intent of the group is to implement the curriculum starting with grades three through five in 2022-23 and in kindergarten through grade two in 2023-24. Hardy reminded the committee that the new math curriculum is being implemented in kindergarten through grade two in 2022-23. Hardy also emphasized that the curriculum includes significant professional development and coaching for teachers and educational leaders. "Reading needs to invest as much in its teachers as it does in its curriculum." Hardy urged.
The curriculum will cost $2 million over a four-year rollout, with anywhere from $43,000 to $150,000 in annual fees after the initial rollout is complete. Superintendent of Schools Thomas Milachewski suggested that the $2 million could come from the American Rescue Plan Act funding that might be made available to the schools. "We can put various interventions in place to support struggling students, but tier one curriculum supports all students," Milachewski espoused. "Now is the time to invest in tier one."
Several School Committee members noted the importance of the embedded professional development in the curriculum. School Committee member Erin Gaffin also shared appreciation for how the writing portion ties into the science and social studies curriculum as well. School Committee member Sarah McLaughlin agreed, "I don't think there is anything we could do that would have such a sweeping change for our students and their path forward." The School Committee voted 6-0 to support the funding required for the new curriculum.
The School Committee also voted 6-0 to support a $25,000 earmark request in the House of Representatives budget for the Reading Memorial High School robotics team. Representatives Brad Jones and Richard Haggarty championed the earmark. A letter of support from the committee will be sent to Senator Jason Lewis in hopes that the earmark will be placed in the Senate budget as well.
Director of Finance and Operations Susan Bottan reported that there are 71 seats available for school choice students throughout the district. Milachewski added that they took a conservative approach to determine how many spaces would be available in each grade, and the extra students would have a "minimal impact" on class sizes. If all the seats were to be filled, the district would be granted $335,000. The application for the slots will be opened on May 11 and will close on June 1. On June 3, a lottery will take place to determine which applicants will be placed in the district.
The School Committee also reviewed plans to update the district improvement plan, created a timeline for the superintendent's evaluation, and viewed a presentation from Milachewski regarding the progress he has made on his goals for the past year.
The committee also voted 6-0 to approve updates to its policy and procedures on alcohol, tobacco, and drug use. The policies as voted now comply with new state laws, MIAA rules, and the high school student handbook.
The School Committee adjourned at 10:20 pm.