Celebrate Independent Bookstore Day with Best-Selling Author David A. Morales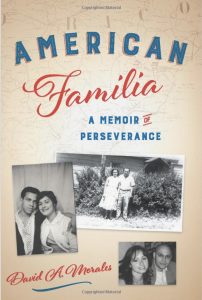 The American Dream is possible for anyone if you're willing to work for it. Nobody knows this better than healthcare executive turned author David A. Morales. In American Familia: A Memoir of Perseverance (River Grove Books, Feb. 22, 2022), Morales explores how the tenets of faith, family, and grit can serve as a compass for young readers in search of a better future.
Morales's message has resonated with media and readers, as his book has achieved Amazon Best Seller status in several categories, including Faith, Fatherhood, Hispanic & Latin Biographies, and Christian Men's Issues. The book also attained the #1 New Release distinction in Religious Leadership and Psychology & Christianity.
American Familia has been featured in El Planeta and The Washington Times, as well as in author interviews with El Mundo Boston, the LiberatED podcast, and an upcoming episode of Jason Romano's Sports Spectrum.
Local readers in the Boston area can meet Morales in person during an upcoming celebration of Independent Bookstore Day at Whitelam Books at 610 Main Street in Reading, Massachusetts. The event begins at 10:30 am ET on Saturday, April 30, with Morales joining fellow local authors in a series of discussions and live readings. The event is free, open to the public, and will feature refreshments and giveaways.
"I'm so thrilled with the response I've received since American Familia was published," Morales said. "I wrote the book to encourage other families to start a conversation with their children about values and to inspire and encourage young people to dream big and become more. I can't wait to spread that message with the community and support Whitelam Books, an awesome small business."
Copies of American Familia will be available to purchase at the event. For more information, please visit whitelambooks.com. Follow David Morales's endeavors through his podcast, Grit Machine DNA, or by visiting davidamorales.com.
About the Author
Growing up in a poor, mountainous region of Puerto Rico, David Morales had no idea he would end up where he is today: an executive shaping the future of healthcare and public policy in America and a father dedicated to faith, family, and community. Over the last two decades, he has had an accomplished career in government, corporate America, and the not-for-profit sector. In addition to leading a health plan, he served as senior executive for a multinational healthcare company, founded his own consulting company, and enjoyed a rewarding career in public service. Alongside his wife, Samanda, he co-founded Ahora Inc., a not-for-profit dedicated to empowering working-class families and low-income individuals to build self-reliance through budgeting, money management, and wealth building. His proudest accomplishment, by far, is raising two strong, God-fearing boys and getting them started on their own journeys toward self-reliance and prosperity. Learn more at davidamorales.com.