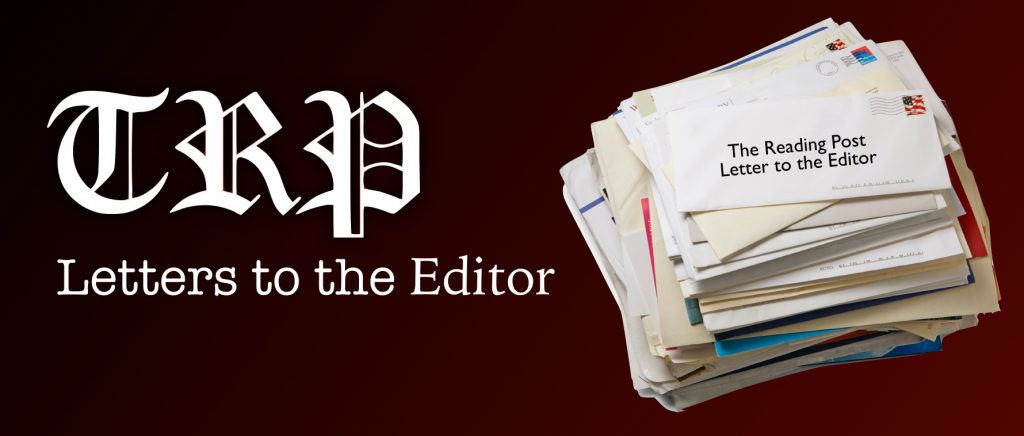 The Reading Post accepts Letters to the Editor. All letters must be signed. The Reading Post reserves the right to edit or not publish any letters received. Letters do not represent the views or opinions of the Post. editor@thereadingpost.com
---
To the Editor,
The Town of Reading is embarking on a new chapter with the hiring of Town Manager Fidel Maltez. He brings fresh new ideas, broad experience, great enthusiasm, and has been connecting with citizens to understand the needs, desires, and priorities of the community. What he needs is a Select Board that is able to empower him and guide him, with members who understand our budget, our challenges, projects the Town staff has been entrusted with, and what has been tried and has worked, and what has failed. He needs a Select Board with institutional knowledge and experience, existing working relationships with our State House delegation, proven leadership, and proven commitment. For any new idea to bear fruit, there needs to be a thorough understanding of the problems to be solved.

We will be voting for Mark Dockser and Jackie McCarthy because they are the right people to lead the Town forward with our new Town Manager.
Jackie has impressed us as we have gotten to know her more the past few months, with her intelligence, thoughtful manner, and her desire to listen and hear all those with whom she engages. She is committed to continuing her service to the Town. Jackie was a neighborhood leader when the Town was negotiating the cell tower issue, and her work as a telecom/tech attorney proved invaluable. She has been Town Meeting member and is on the Finance Committee. Jackie promises to listen, and to learn. We believe Jackie is capable of becoming a fully contributing member of the Select Board on day one, as she has been working with the Select Board for the past several years. Now is the right time to elect Jackie to the Select Board.
Mark is completing his first term on the Select Board, and Reading needs him to continue the work he has begun. Mark currently serves on the Reading Center for Active Living Committee (ReCalc) and has been an advocate in many ways for our senior population. He serves on the Reading ARPA Advisory Committee (RAAC) which will make recommendations to the full Select Board on how to spend the Town's $7.5 million in ARPA funds. Mark holds an MBA from Stanford, has voted on the Town budget for 23 years as a Town Meeting member, and served on the Finance Committee for 9 years. We trust Mark to work to keep Reading financially stable, to promote reasonable economic growth, and to support our local businesses.  
Please join us in electing Mark Dockser and Jackie McCarthy to the Select Board on April 5.
Sincerely,
Angela Binda and Jeffrey Dietz
Orchard Park Drive