…TO DISCUSS NEW 40-YEAR MORTGAGE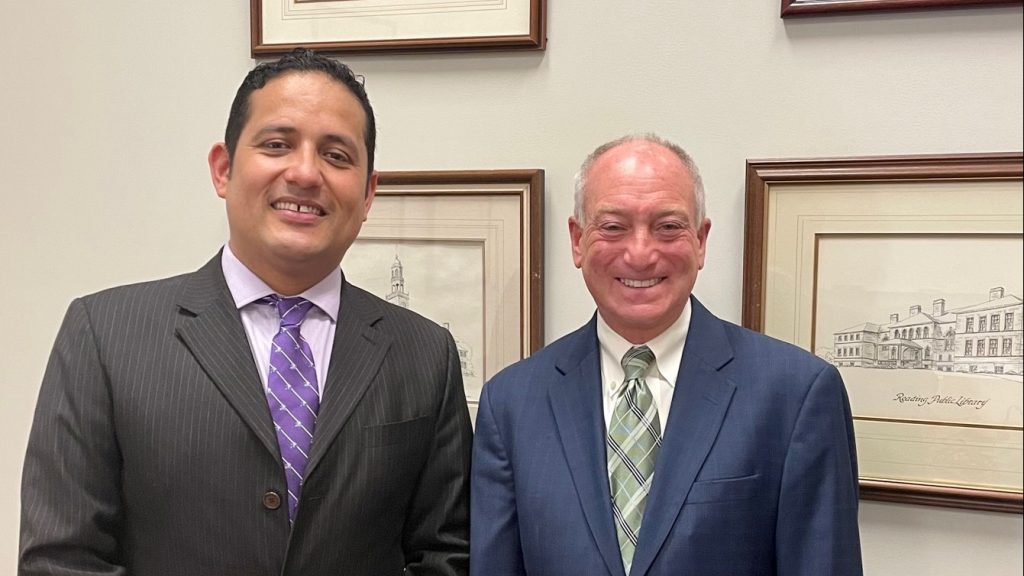 Metro Credit Union, Massachusetts' largest state-chartered credit union, is hosting meetings this month with city officials to discuss benefits of their new 40-year mortgage. Metro recently added the 40-year mortgage to its product lineup, which includes options for jumbo loans and bi-weekly payments.
Robert Cashman, Metro Credit Union's Chief Executive Officer, met with Fidel Maltez, Reading Town Manager, at Reading City Hall this week to discuss the new offering. The 40-year mortgage will make becoming a homeowner a reality for more individuals, including first-time homebuyers who are having difficulty getting into the market.
"Our new 40-year mortgage is a welcome addition to our existing line-up of mortgage offerings," said Robert Cashman, CEO, and President of Metro Credit Union. "I hope Reading residents are able to utilize this new product to become homeowners or save money in the long-term by refinancing an existing mortgage."
Extending the mortgage term to 40 years results in a lower monthly mortgage payment, offering housing affordability for many who are currently priced out of the market, or those having difficulty refinancing an existing loan. Cashman and Maltez seek to spread the word about the 40-year mortgage to improve housing affordability for Reading residents.
"Metro's new 40-year mortgage is a great choice for Reading residents looking to purchase their first home, refinance their existing mortgage, and more" said Fidel Maltez, Reading Town Manager. "I'm pleased to promote this new Metro product – anything that can make homeownership more realistic and feasible for the community of Reading is worth it."
For more information about Metro Credit Union, please visit MetroCU.org or follow Metro on LinkedIn.
About Metro Credit Union
Metro Credit Union is the largest state-chartered credit union in Massachusetts, with $2.4 billion in assets. Metro provides a full range of financial products to close to 200,000 members in Essex, Middlesex, Suffolk, Norfolk, Plymouth, Barnstable, Bristol and Worcester counties in Massachusetts, and Rockingham and Hillsborough counties in New Hampshire, as well as to employees of over 1,200 companies through its Metro@work program.
Founded in 1926, Metro currently operates 16 branch offices in Boston, Burlington, Chelsea, Framingham, Lawrence, Lynn, Melrose, Newton, Peabody, Reading, Salem, Tewksbury, and coming soon to Dorchester, Medford, and West Roxbury. Metro is also a Juntos Avanzamos ("Together We Advance") designated credit union, an honor given to financial institutions for their commitment to serving and empowering Hispanic and immigrant consumers. Metro was recently named among the most charitable companies in Massachusetts by the Boston Business Journal. Learn more at MetroCU.org and on LinkedIn.