5th Middlesex District Includes Malden, Melrose, Reading, Stoneham, Wakefield, and part of Winchester
WAKEFIELD, MA – Ed Dombroski, a Wakefield attorney, small business owner, and town councilor today announced his campaign for the Massachusetts State Senate, representing the 5th Middlesex District communities of Malden, Melrose, Reading, Stoneham, Wakefield, and part of Winchester.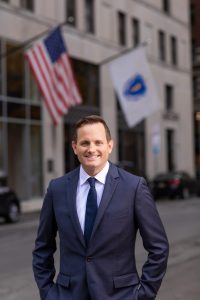 Councilor Dombroski, a registered Republican, aims to bring a commonsense approach to legislating in the Massachusetts Senate.
"I am running to focus on the issues that matter most to the residents of these communities," said Dombroski. "I am proud of my record of accomplishment on the Wakefield Finance Committee and the Town Council and know that there is so much more we can do on Beacon Hill. I've watched Republican leaders like Governor Charlie Baker demonstrate how we can work together beyond party lines to get things done, and that is how I will lead if elected."
Dombroski, first elected in 2017, is currently serving his second term on the Wakefield Town Council. He previously served as Chairperson on the Town Council. As a Trustee of the Massachusetts Bar Foundation (and recently elected to leadership as Secretary), Dombroski helps oversee grantmaking of millions of dollars each year to expand access to legal services to many underserved populations. He previously served on the Board of Directors for RESPOND, Inc., New England's first domestic violence agency. He is also actively involved with the work of Wakefield Alliance Against Violence (WAAV) and the Stoneham-Wakefield Boys and Girls Club.  
Dombroski is the Managing Partner of Travers Dombroski, a full-service family law practice. For two decades, Dombroski has helped families navigate some of life's most difficult challenges as a family law attorney. Dombroski represents clients throughout Massachusetts and from across the country and around the world in matters in the Massachusetts state and Federal Courts.
For more information visit edforma.com.