Solidifies First-in-the-Nation Offshore Wind Partnership with Municipal Light Plants, Including the RMLD, to Help Massachusetts Achieve Net-Zero Emissions Goals
Agreement will allow MLPs including the RMLD to Acquire Locally Generated Wind Power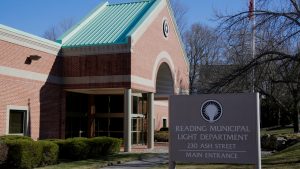 Reading, MA, — On Friday, December 17, Massachusetts officials announced the selection of the Commonwealth Wind project at MA CEC's Wind Technology Testing Facility in Charlestown, MA. This offshore wind project includes a first-of-its-kind partnership between Vineyard Wind, the developer, and Energy New England (ENE), which is representing 20 participating Massachusetts Municipal Light Plants (MLPs), including the RMLD. This partnership will allow MLPs to purchase offshore wind power for the first time, an opportunity that will green the portfolios of MLPs across the state.
Under the agreement, MLPs will be able to purchase up to 32 megawatts or approximately 146,000-megawatt hours (adjusting for capacity availability for offshore wind) per year, plus the associated non-carbon certificates (specifically, Renewable Energy Credits (RECs)).
"The RMLD appreciates the efforts put forth to enable MLPs to participate in this offshore wind project. We will continue to work hard to help ensure that MLPs are included in future projects," said Coleen O'Brien, RMLD General Manager.
The Commonwealth Wind project will provide 1232 megawatts of offshore wind and will be located in an area south of Martha's Vineyard.
About Reading Municipal Light Department:
Established in 1894, Reading Municipal Light Department (RMLD) is a municipal electric utility serving over 70,000 residents in the towns of Reading, North Reading, Wilmington, and Lynnfield Center. RMLD has over 30,000-meter connections within its service territory.
About Vineyard Wind:
Vineyard Wind LLC is an offshore wind development company that will build the first commercial-scale offshore wind energy project in the U.S., to be located 15 miles south of Martha's Vineyard. Vineyard Wind, based in New Bedford, Massachusetts, is 50 percent owned by funds of Copenhagen Infrastructure Partners (CIP) and 50 percent by Avangrid Renewables, a subsidiary of AVANGRID, Inc. (NYSE: AGR). For more information, visit vineyardwind.com.
About Energy New England (ENE):
ENE is the largest wholesale risk management and energy trading organization serving the needs of municipal utilities in the northeast. ENE works with numerous businesses, residents and utilities to help promote the principles of conservation, efficiency, and environmental stewardship, and advances the many benefits available through integrated sustainability planning. ene.org