Proceeds Will Support Local Domestic Violence Prevention Agency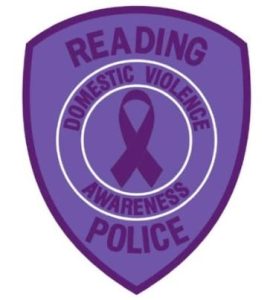 Reading, MA — Chief David Clark is pleased to announce that the Reading Police Department is partnering with a local organization to raise awareness to support survivors of domestic violence during Domestic Violence Awareness Month.
The Reading Police Department is partnering with RESPOND, Inc., a local domestic violence prevention agency, to help raise awareness about domestic violence by wearing special patches during the month of October. These special patches will be for sale to help support those in need.
"We are proud to once again partner with RESPOND to help support and raise awareness about this incredibly important issue," Chief Clark said. "The sale of these patches will help to fund vital resources to help survivors in our community and beyond access the services and resources they need."
The patches cost $10 each. All proceeds will go directly to RESPOND to help survivors with basic needs, including groceries, school supplies, clothing, cleaning supplies, personal protective equipment, and more.
Anyone who would like to purchase the patch should mail a check for $10 made out to RESPOND, Inc., along with a self-addressed, stamped envelope, to the Reading Police Department, 15 Union St., Reading, MA 01867 (attn: CSO Kristen O'Shaughnessy).
"The Reading Police Department is an essential RESPOND partner, and we are proud to work alongside RPD in service to survivors in Reading by offering confidential, civilian advocacy following police calls," said Tanina Dawidowicz, Coordinator of RESPOND's Law Enforcement Partnerships program. "COVID-19 has made it especially hard for survivors to make ends meet, so we are grateful that RPD is continuing the initiative this year. A gas card, help with groceries, funds to change a lock – these make such a difference for someone whose finances have been turned upside down by an abusive partner or the process of leaving an abusive relationship."
"Opportunities like this are a great way to raise awareness and make a significant difference in the lives of domestic violence survivors," Community Service Officer Kristen O'Shaughnessy said. "We're proud to help contribute to the cause and support the incredibly vital work RESPOND does to aid community members in need."
For more information, call 781-942-6761 or email Community Service Officer O'Shaughnessy at KOShaughnessy@ci.reading.ma.us.
About RESPOND
A pioneer in the movement to end domestic violence, RESPOND is New England's first domestic violence agency and the second oldest in the nation. RESPOND's work began in the early 1970s when four women from Somerville started a grassroots effort to support victims of domestic violence by opening their homes as safe havens for women fleeing abuse. Today, RESPOND continues to provide life-saving shelter and housing support, safety planning, training, and educational programs to survivors of all ages and genders. RESPOND's programs and services focus on domestic violence prevention, intervention, and education and are 100% confidential and free of charge.

For more information about RESPOND, please visit its website at respondinc.org or find it on Facebook, Instagram, or Twitter. RESPOND's Support Line is live Monday through Friday, 8 a.m. to 6 p.m., at 617-623-5900.