Friday, March 26 – Sunday, March 28
Reading, MA — First, a big thank you to all who contributed to the Teddie Peanut Butter Challenge, as 1600 jars of peanut butter went to food pantries in Reading, Lawrence, Winthrop, and Chelsea in January!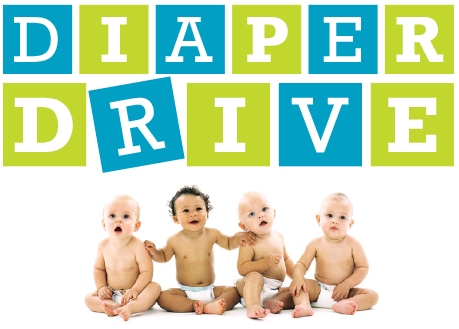 After reading an article in the Boston Globe in late December about the critical need for diapers among needy and marginalized young families, I realized this was another enormous area of concern for many without jobs due to the pandemic. At La Colaborativa in Chelsea, more than 1,000 people line up early each Wednesday morning for diaper distribution for their babies and toddlers. The diaper line is as long as the food line in Chelsea, with federal programs such as WIC and SNAP not covering this large expense. (visit La Colaborativa's website la-colaborativa.org to learn more about this endeavor).
So here's the (next) Challenge! Two companies, Engineering Design Associates (EDA) of Chelsea and Championship Physical Therapy (CPT) in Winthrop will donate $1,200 to the cause (approximately 5,000 diapers) if we can collect 10,000 diapers on our own…. bringing us to a total of 15,000 diapers.
This Diaper Collection Challenge will benefit La Colaborativa in Chelsea, the Reading Food Pantry, and Lazarus House in Lawrence.
Where to get diapers: Market Basket, Stop and Shop, BJ's, Walmart, Target, Costco.
Every diaper counts, from a pack of 12 to a case of 136. At La Colaborativa, each person receives just 10-15 diapers after waiting a few hours to get them. These families need our help – let's show the love and give the love to our brothers and sisters in need. Everyone loves a happy dry baby!
Bins will be in front of 26 Oak Ridge Road. Bring yourself, bring your children or grandchildren to join in to drop off diapers! Any size is helpful, from a small package to a case – – baby wipes are welcomed too! The Director of Outreach at La Colaborativa said all sizes of diapers are welcomed, but the most difficult to supply are sizes 4 and larger.
If you can't make it out and would prefer to participate with a Venmo donation for the purchase of diapers, feel free to contact me at wsquires@winthropcpt.com and I'll get back to you with information on how to do so.
Thank you in advance for anything you can contribute!