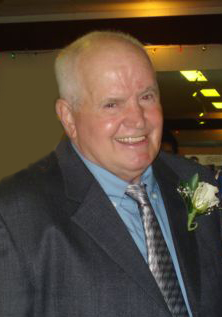 Michael J. O'Donnell, Sr. of Reading, died suddenly in his home on Wednesday, February 10, 2021. Michael was born in Charlestown on Nov. 24, 1939, to the late Cornelius and Mary (Murphy) O'Donnell.
Michael leaves behind his loving wife, Marjorie (Spaulding) O'Donnell, their three children- Marjorie O'Donnell, and Michael O'Donnell, Jr. of Reading and Patricia O'Donnell, of Wilmot, NH. He also leaves his brother, Philip (and wife Harriet) O'Donnell, of Medford, brothers in law- Walter (Whitie) Spaulding, Jr. of Reading and Michael Spaulding (and wife Alina and son Michael Jr.) of Groton, MA. He is also survived by many nieces and nephews. Michael was predeceased by his brothers Cornelius (and wife Martha), James (and wife Christine), Bernard, Thomas, and Robert O'Donnell, and his sister Barbara (and husband James) Doran. 
Michael and his wife, Marjorie loved to travel. They went on many trips together to Florida, Virginia, New Hampshire, and Maine. He had a passion for his family, and a kind, compassionate spirit. A machine shop supervisor for many years, later a custodian with the Reading Public Schools (where he enjoyed seeing the children every day).   
A Funeral Mass Celebrating Michael's Eternal Life will be held at 10:30 on Thursday, February 18, 2021, at St. Agnes Church, 186 Woburn St., Reading, MA. Please go directly to the church. Internment following Mass at Charles Lawn Cemetery in Reading, MA.