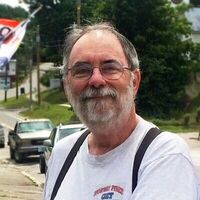 Charles H. (Chuck) Bramhall of Peabody, formerly of Reading, passed away in the early morning hours of October 24, 2020, at the age of 75.
Chuck grew up in Lexington, the first child born to Otis H. Bramhall and Eleanor (Choate) Bramhall. He was the oldest brother of Frederick Bramhall, who resides in Sharon with his wife Joyce, Gregory Bramhall of Needham, and Allen Bramhall of Billerica.
Chuck leaves behind his loving wife, Donna J. (Rogers) Bramhall, of Bedford and Reading, whom he married on November 25, 1967. Chuck served in the U.S. Army from 1968 to 1971, stationed at Fort Knox in Kentucky, and Camp Eagle in Vietnam. In 1971, Chuck and Donna welcomed their first child, David Bramhall, now of Peabody. In 1974, they purchased their home in Reading, where they would spend the next several decades raising their three children: David and Meredith Bramhall of Billerica, and Jacqueline (Jackie) Bramhall Anderson of New Ipswich, NH.
Chuck was the loving uncle of Jeffrey Bramhall and his wife Lodrina Cherne of Lowell, Allison Bramhall of Providence RI, and Devin Bramhall of Brooklyn, NY, and father-in-law to Wesley Anderson of New Ipswich, NH.
Throughout his youth, Chuck was known for having a keen interest in all things automotive; there were fewer things he enjoyed more than building engines, making repairs, and racing. He loved the sound of a finely tuned engine and often shared stories of various cars he'd purchased, repaired, raced, and sold over the years – particularly his '57 Chevy.
Chuck was very devoted to his family and was always ready to help out with school projects and activities, working backstage at his daughters' dance recitals, and repairing just about any item you could put in his hands. Chuck also enjoyed improving his carpentry and metal-working skills, building small furniture, and renovating and repairing his home.
Chuck loved the time spent with his family at their summer cottage in Bridgewater, NH, where he enjoyed bike rides with Jackie, long walks with the family dogs (Dale and Holley), and scenic drives around Newfound Lake – which typically ended with a stop at the local ice cream stand.
Chuck also served as Assistant Scout Master for Boy Scout Troop 702 at Old South UMC in Reading during the mid-'80s and enjoyed hiking and camping trips taken during that time to places such as Harold Parker State Forest and the White Mountains, and annual turkey roasts in the Reading Town Forest.
Chuck worked as a Senior Field Service Technician at Mosler, Inc. for thirty years, until the company closed in August 2001. He then worked for CGL Security in Westwood, and Securitas in Westborough for several years, until his retirement in 2009.
A Memorial Service will be scheduled in the spring. In lieu of flowers, donations may be made in Chuck's memory to either the New England Center and Home for Veterans, 17 Court Street, PO Box 845257, Boston, MA 02284-5257, or Old South United Methodist Church, 6 Salem Street, Reading, MA 01867.