November 24, 1929- September 25, 2020.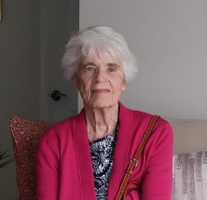 Jeanne M. Duffy (née Egan). Age 90. Jeanne passed away peacefully in her home in Reading, Massachusetts, with her children near her. Born in Boston in 1929, Jeanne was the youngest daughter of Charles Egan and Mary Egan (née Acorn). She grew up on Oakley Road in Belmont with her parents, her brothers Fred and Paul, and for a time, her aunt Kay Acorn. The Egans vacationed in Pocasset, Cape Cod, where Jeanne would return almost yearly for the rest of her life, enjoying sailing, swimming, and the neighborly Tahanto community where her family owned a house. Jeanne attended Notre Dame Academy in Boston (class of '47), and later Simmons College (class of '51) for business. She enjoyed working as an executive secretary at a local company for several years. In late 1951, a mutual friend recommended she go on a blind date with Edward Duffy Jr. of Arlington. Though her first impression was that Ed was too short (he was standing a step down from her on her front steps), they hit it off and became engaged soon after. They married on October 31, 1953. The young couple lived first in Boston in a basement apartment, and then in a small house in Waltham, where children Janet, Carol, Edward, and Susan were born. In 1960, they moved to Mayflower Road in Winchester, where Jeanne would live until 2015. Their children, David, Maura, and Chris were born.
Jeanne was a warm and loving mother, with the ability to see her children for who they were – helping them each along different paths, whether it was dancing, gymnastics, engineering, music, comic books, animals, or art. Jeanne's mothering was observant and flexible – she knew when to step in and when to let the kids play outside unattended. She was a voracious and smart reader and an expert crossword puzzle solver. And if raising seven children wasn't enough, she was active in Winchester's Winton Club, an avid golf and tennis player, a CCD teacher, a tax consultant, and a member of a bridge group that played together for over five decades.
After her children had moved out, she hosted regular Thanksgiving and Christmas dinners for kids, sons and daughters in law, and grandkids – introducing them to the Egan custom of reading riddles and poems with clues to hidden Christmas presents. She and Ed enjoyed several trips to Europe, including memorable tours of Ireland and Yugoslavia.
For 15 years she was the primary caregiver to her husband Edward, who suffered from Alzheimer's, helping him through difficult transitions with love and understanding. He passed away in 2018.
Jeanne is survived by her children Janet Wilhelm of San Diego, CA, and her husband Tim Wilhelm; Carol Brunstad of Atlanta, GA, and her husband Bill Brunstad; Susan Duffy of Rye, NH, and her partner Larry Dukes; David Duffy of Denver, CO, and his wife Julie Duffy; Maura Duffy of Stoneham, MA; and Chris Duffy of Cold Spring, NY, and his wife Peggy Clements. Her oldest son, Edward (Eddie) died in 1982.
She was a loving grandmother to Amanda Wilhelm, Geoffry Wilhelm, Megan Duffy, Rebecca Duffy, Jesse Brunstad, John Miller Brunstad, and Peter Duffy; and a loving great grandmother to William Banks Brunstad.
Known for her sense of humor, sharp intellect, compassion, and generosity to all, Jeanne made the world a better place for her children and all who knew her. She saw the world as it was, but strived to know more and to do right by strangers and those close to her. She met every day with focus, care, and wisdom, and led an extraordinary life.
In lieu of flowers, donations may be made to the Samaritans or the Alzheimer's Association in her name.
https://samaritanshope.org/
https://www.alz.org/
We love you, Mom.
A Graveside Service will be held on Saturday, October 3rd, at Wildwood Cemetery, 34 Palmer St. Winchester at 11 am. Relatives and friends are kindly invited to attend. We respectfully ask that social distance guidelines be practiced and masks must be worn.