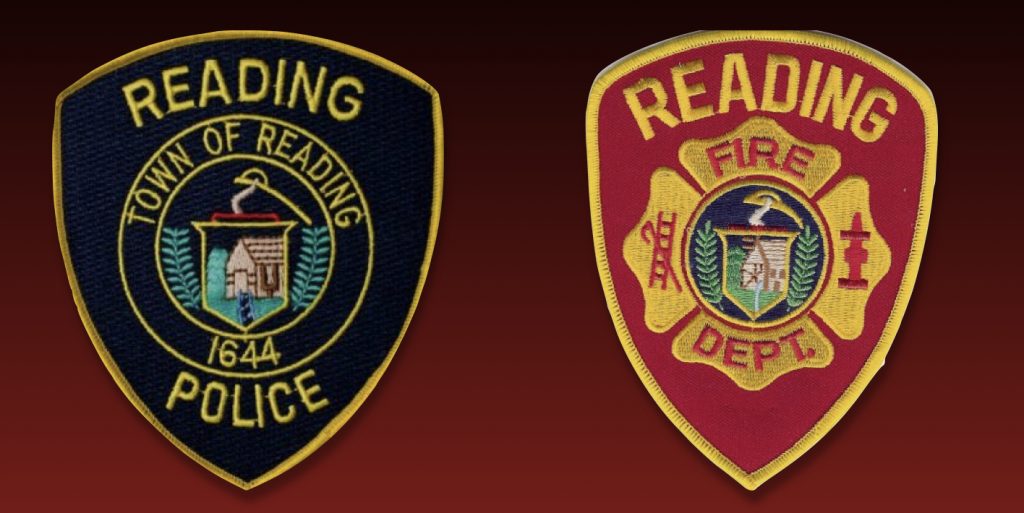 Reading, MA — Below are highlights from the Reading Police & Fire Log
Monday, July 13, 2020
9:00am – Complaint of Traffic Backing up on Main Street at Franklin Street.
9:00am – Bethesda Lane Resident Reports Strong Outside Odor of Gas.
9:29am – Assistance Rendered to John Street Resident.
10:00am – DPW Reports Removal of Town Tree.
10:50am – Lowell Street Resident Reports Stolen Bicycle.
11:18am – Officer Came Upon Disabled Vehicle on Causeway Road.
11:59am – Haven Street Resident Reports Smashed Vehicle Windows.
1:48pm – Lights at Main Street and Franklin Street not Cycling Properly.
2:26pm – Report that Truck will be Parked in Haven Street Municipal Lot Overnight.
3:13pm – Verbal Warning for Red Light Violation Issued on Main Street.
3:18pm – Directed Patrol in Area of Summer Avenue and Cherry Lane Drive.
3:46pm – Report of Wire Hanging in Roadway on Pearl Street.
5:01pm – Complaint Regarding Passengers Sitting on Edges of Vehicle Windows While Driving on Oakland Road.
6:50pm – Report of Resident Removing Public Bushed on Pilgrim Road.
7:14pm – Report that Vehicle Entered Salem Street Rotary Against Traffic.
8:05pm – Complaint of Outside Burning on Dudley Street.
Tuesday, July 14, 2020
12:20am – Report of Verbal Dispute Between Neighbors at Main Street Apartment.
5:32am – Officer Finds Vehicle Covered in Tin Foil and Cones at Austin Prep. School.
9:46am – Joanna Drive Resident Reports Receiving Unemployment Checks from Pennsylvania.
11:33am – Witness Summons for Main Street Resident Received Via Fax.
11:36am – Fax Received Detailing Immediate Threat to Pratt Street Resident.
12:12pm – Riverside Drive Resident Reports Fraudulent Unemployment Claim.
12:40pm – Investigation of Minor Vehicle Crash at Main Street Business.
12:53pm – Unattended Backpack Found by Railroad Track on High Street.
1:31pm – Report of Large Truck Possibly Leaking Fluid on Mill Street.
2:17pm – Probation Officer Requests Contact with Green Street Resident.
3:05pm – Report of Suspicious Person Asking Customers for Money at Lincoln Street Business.
4:30pm – Riverside Drive Resident Reports Fraudulent Unemployment Account.
5:35pm – Officer Assists with Birthday Parade on Scotland Road.
Wednesday, July 15, 2020
6:28am – Tires from Two Vehicles Reported Stolen from Wakers Brook Drive Business.
8:35am – Washington Street Resident Complains of Ongoing Issue with Loud Noises from Upstairs Apartment.
9:07am – Report of Possible Sick Raccoon in Memorial Park.
9:30am – Complaint of Non-customer Vehicle Parked in Main Street Parking Lot.
9:32am – Complaint of Tractor Trailers Speeding Towards Wilmington on West Street.
11:08pm – Video Footage of West Street Residence Shows Suspicious Person on Property.
11:08am – Edgemont Avenue Resident Reports Vehicle Missing from Driveway.
4:07pm – Report of Persons Smoking Marijuana on Washington Street Parking Lot.
5:55pm – Wellesley PD Requests Contact With Haverhill Street Resident.
5:59pm – Report of Pedestrian Riding Bicycle in Middle of Prescott Street.
6:06pm – Lynn Village Way Resident Reports Odor of Oil in Home.
7:47pm – Complaint Regarding Group of Teens Harassing Vehicle at Main Street Business.