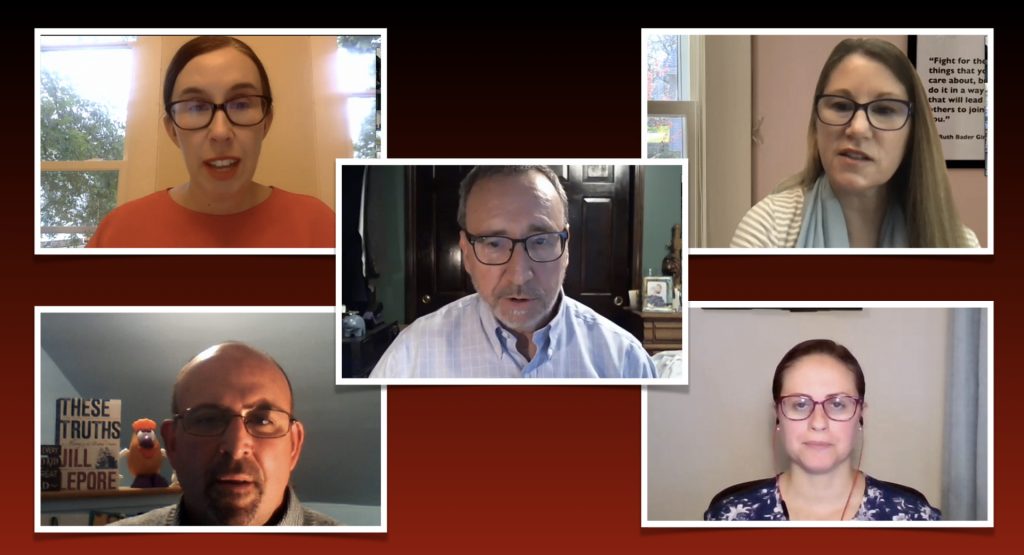 Reading, MA — Concerns regarding the 30'x 60' tent that has been erected on the cobblestone parking area in front of Venetian Moon on Main Street rose up during the public comment portion of the June 30 Select Board meeting. The tent effectively closes the entire parking area on that portion of Main Street. 
Dr. Jane Harrison of the Middlesex Animal Hospital related that she had not been informed prior to the permit for the tent being issued and as a result had not been given a chance to express her concerns regarding the potential impact to her business. She stated concern for her customers who are elderly and who need to park close to her business. Dr. Harrison also expressed frustration that the town seemed to be helping one business at the expense of others. The owners of the Family Dental Clinic and Reading Shirt & Trophy also shared similar concerns. "Our voices were not considered or heard at all." Kevin O'Conner of Reading Shirt & Trophy complained.
Peter Simms of Simms Jewelers shared that, while he had had doubts regarding the tent, he was willing to go along with the plan until he learned that the permit was active until November. He also lamented the lack of communication from the town over the issue, which he contrasted with the communications received during the downtown improvement project.
The board did receive emails from the owners of Nella's Pizza, Cafe Nero, and ReMax Realty supporting Venetian Moon's expansion. Julie Centrella from Aine's Boutique shared her belief that the tent will "encourage people to come downtown."
Town Manager Robert LeLacheur suggested several ideas to alleviate the issue, specifically changing the Select Board policy to require the town to notify abutters of these types of plans, as opposed to asking business owners to do so. The owner of Venetian Moon apologized to her neighbors for the confusion while at the same time stating, "I did everything the town asked me to do."
The Select Board asked town staff to get together with business owners to try to reach an agreement that is satisfactory to all concerned. Though Chair Mark Dockser acknowledged that it may not be possible to please everyone. The board will add an extra meeting in early July to revisit the issue.
The board also addressed three separate Open Meeting Law complaints that had been filed against it. In the first, resident Kendra Cooper alleged that the board was not compliant with how the minutes from February 11 were approved. Cooper's concern was that the minutes were approved, with members possibly making edits afterwards, out of public session. Dockser said that the complaint had not been filed in a timely manner and suggested the board send a letter to Cooper stating this to be the case, though Select Board member Anne Landry did comment that the possible edits in question had not occurred.
The second complaint was regarding emails sent by Member Carlo Bacci to the entire board regarding the recall election issue. Resident Kevin Leete filed the concern, asking that Bacci apologize and take updated training on Open Meeting Law issues. Bacci did apologize at the meeting also posting on his Facebook page, "I take full responsibility and acknowledge that I made several mistakes regarding some emails that I hit reply all instead of reply. I understand that I violated OML and that was not my intention. I made a mistake and Chair Dockser notified me and I apologized . . . I'm new to this and learning as I'm going along." Bacci also expressed concern that a fellow member may have "leaked" the emails in question. Select Board member Vanessa Alvarado reminded Bacci and the board that emails to the entire board are a part of the public record.
The third and final Open Meeting Law complaint was filed by resident Alicia Williams which asserted that Select Board member Karen Herrick was sending and receiving text messages during a meeting. Dockser reported that he had conferred with Town Counsel who shared that Open Meeting Law only applies to text messages that are amongst a quorum of the board and are regarding town business. Herrick affirmed that the text messages in question were not amongst a quorum of the board and were not regarding town business. Dockser also stated that it is not a violation of Open Meeting Law to send and receive personal text messages during a meeting.
The Select Board voted 5-0 to approve an alteration of premises as it relates to the liquor license for Liquor Junction. Owner Ketul Patel submitted plans to expand his business and include a "Wine Education Center" as part of his store.
The board also voted 5-0 to allow Bunratty's Tavern to extend its liquor license for sidewalk dining in front of its storefront on Main Street. A vote of 5-0 also approved a transfer of a class II license for automobile sales to Lusso Imports, Inc. on Minot Street.
The Select Board adjourned at 11:15 pm.