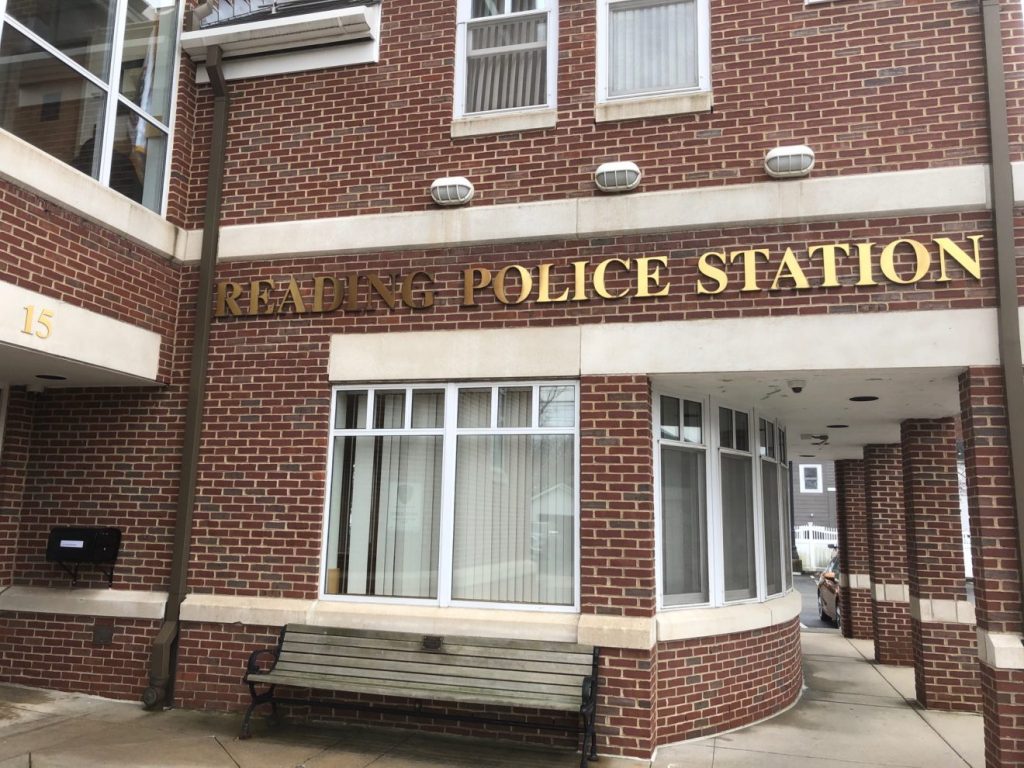 Reading, MA — Below are highlights from the Reading Police Log
Thursday, April 9, 2020
2:12 am – Ashley Place Resident Reports Hearing Somebody in Bedroom.
2:27 am – West Street Employee Requires Assistance Getting Home.
9:29 am – Boyce Street Resident Unable to Locate Grocery Delivery.
9:34 am – Elderberry Lane Resident Reports Possible Census Scam.
9:43 am – Salem Street Resident Locked out of Residence.
2:19 pm – Flooded Roadway Reported at Franklin Street and Haverhill Street.
2:22 pm – Disabled Vehicle Reported on Main Street.
3:56 pm – Mass Highway Notified of Clogged Basin at Main Street and Fairfield Road.
4:03 pm – DPW Notified of Water Backing Up onto Roadway at West Street and Willow Street.
7:14 pm – Fire Reported at Ridge Road Residence.
7:55 pm – Tree and Wires Down on Vine Street.
7:58 pm – Tree Leaning on Wires on School Street.
8:07 pm – Report of Tree Partially Blocking Summer Avenue.
8:42 pm – Reported Tree Limb Partially Blocking Virginia Road.
11:39 pm – Washington Street Resident Complains of Noisy Neighbors.
Friday, April 10, 2020
1:29 am – Burglar Alarm Reported at Main Street Business.
3:16 pm – Report of Youths Gathering at Parker Middle School.
3:57 pm – Sanborn Street Resident Reports Finding Bag with Clothes Inside.
9:28 pm – Commercial Alarm at West Street Business.
Saturday, April 11, 2020
9:11 am – Report That Main Street Traffic Lights are not Changing.
10:14 am – Report of Large Crane Blocking Westbound Lane on Grove Street.
11:08 am – Complaint that Motor Vehicles are Backing Up onto Main Street.
12:35 pm – Report of Parked Vehicle Damaged by Another Vehicle in Main Street Parking Lot.
1:04 pm – Low hanging Wires Reported on Governors Drive.
2:40 pm – Officer Locates Uncashed Check on Washington Street.
8:40 pm – Assistance Rendered to Individuals Locked in Post Office Lobby.
10:08 pm – Cherry Lane Resident Reports Group With Loud Music.
11:59 pm – Disabled Vehicle Reported on Haven Street.
Sunday, April 12, 2020
12:25 pm – Suspicious Person Located at High School.
1:16 am – Lakeview Avenue Resident Reports Receiving Harassing Phone Calls.
4:00 am – Assistance Required at Frank Tanner Drive Residence.
7:12 am – Haven Street Resident Complaint Regarding Car Alarm Sounding.
12:19 am – Washington Street Resident Reports Elderly Person Being Followed.
3:04 pm – Charles Street Resident Needs Assist After Fall.
3:18 pm – Augustus Court Resident Reports Youth Playing with a Football in the Courtyard.
4:30 pm – Unlocked Door Checked at Walker's Brook Drive Business.
9:36 pm – Suspect Arrested and in Custody After Response to Burglary Alarm at Walker's Brook Drive Building.
(DISCLAIMER: This information is public information. An arrest does not constitute a conviction. Persons arrested are considered innocent until proven guilty.)