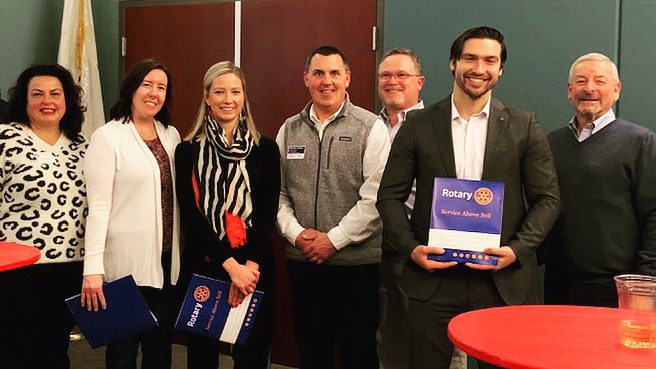 Reading, MA — Welcome to new members, Jeanne Borawski, Andrea Evans Zoia, and Gabe Moraga, who were inducted at our Membership Open House on January 15.
Membership Chair Lisa Gibbs and a team including, John Douglass, Brian Tobin, and Mike Collins, organized a very successful Open House at RCTV.
We had 11 additional potential new members attend and it was a great time. Jeanne is a well-known volunteer in town. She serves on the School Committee but will be stepping down from that elected position in March at the end of her second term. Jeanne is a former teacher and was very involved in the planning of the hugely successful Reading 375 festivities.
Andrea is an employment law attorney, with her office in Boston. Andrea is coming is as a Service Member and as has said she is looking to become involved in community service in the town. Andrea is the mother of two children ages 3 and 18 months.
Gabe is the branch manager of Salem Five on Walkers Brook Drive. He is taking Shelley Murray's place as Rotary rep from the bank. Gabe has been a regular attendee of lunch meetings and has already made the Food Bank Run and spun some cotton candy at the Festival of Trees.
Please join us in welcoming these bright, new faces and make them feel at home in our club.