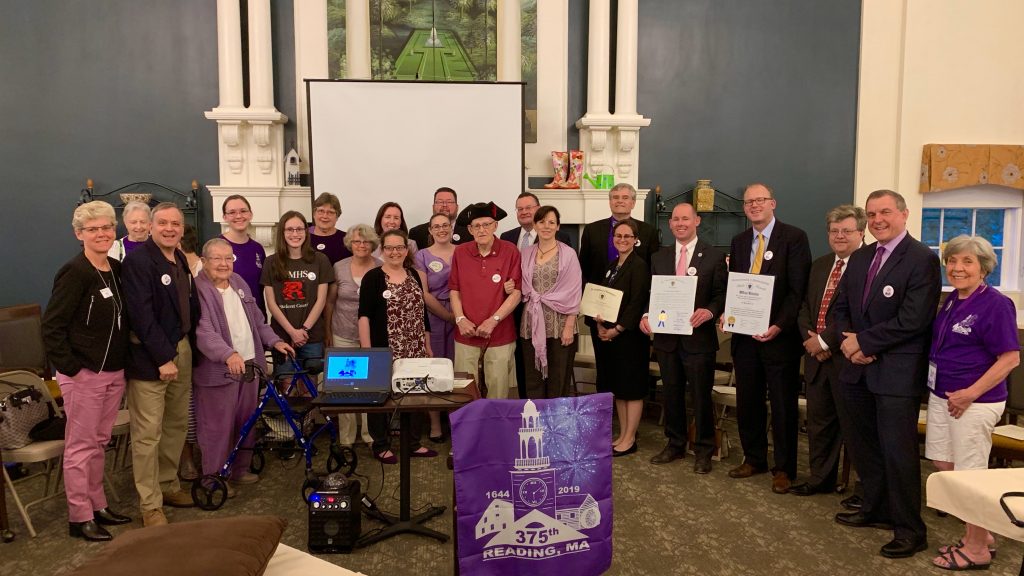 If you noticed an unusual number of people wearing purple on Monday, it might be because June 10 was Charter Day – Reading's birthday. Over one hundred residents – many of whom sported purple clothes and Reading 375 t-shirts and pins – crowded a large hall at the Residence at Pearl Street to witness Reading Speaks: Voices from the Past and Present. Once every seat was taken, people stood along the back wall and sides to participate. Live piano music filled the room, and hors d'ouevres were available for snacking.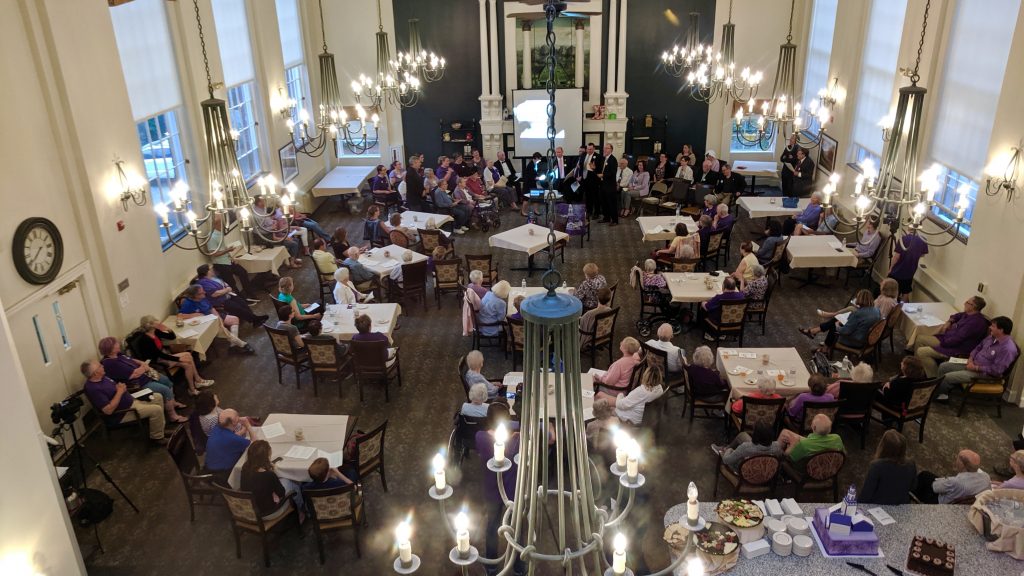 Select Board Chair Vanessa Alvarado kicked off the event, by offering her thanks to the Reading 375 volunteers who have coordinated two weeks of celebrations. State Representatives Brad Jones and Rich Haggerty, along with State Senator Jason Lewis, presented a proclamation honoring Reading's 375th anniversary.
The event continued with thirty individuals, each taking part in sharing a snapshot of Reading through history – from 1630 to today. Participants included local and state elected representatives, town leaders, longtime Reading residents, Reading Public School students, and residents of the Residence at Pearl Street.
The event ended with a spectacular, multi-tiered cake in honor of Reading 375.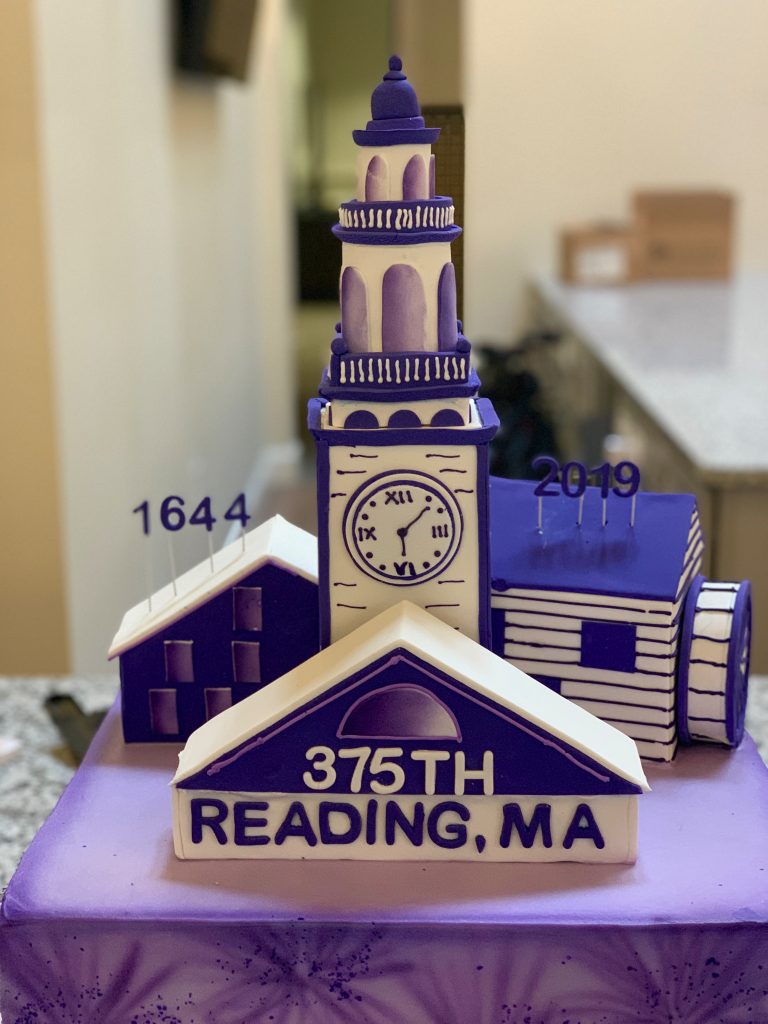 According to Town Manager Bob LeLacheur, who participated as a presenter in Reading Speaks, "The two-week celebration for Reading's 375th birthday has been a wonderful opportunity for friends and neighbors to gather together in a wide variety of venues. The positive outpouring of support has been great to see, and has been a good welcoming to many of our new residents."
Reading 375 wraps up this Saturday, June 15, with events running from morning until night. Events include
The Friends of Reading Recreation Fun Run, for kids Pre-K through 8

th

grade

The Reading Lion's Club Annual Friends and Family Day

The first ever Reading Dog Parade

A fun Food Truck Event

Hot Air Balloon Rides courtesy of RE/MAX Encore (weather dependent)

Live Music by the Reading Community Concert Band and Northshoremen Barbershop Chorus

Fireworks sponsored by Friends of Reading Recreation
For all event details, including locations and times, visit reading375.com. 
About Reading 375: Reading 375 is a non-profit, volunteer-driven organization whose goal is to bring our community together to celebrate Reading's 375th anniversary in 2019. Events will occur over a two-week period, from May 31 – June 15, and will include local artists and musicians, architecture unique to Reading, and fun community gatherings. The Reading 375 Steering Committee hopes to create a town-wide celebration of Reading's rich history and exciting future. Commemorative anniversary t-shirts are available at Reading Trophy and Shirt and RCTV Studios for $20. Limited edition Reading375 pins are available at Whitelam Books, Reading Cooperative Bank, The Town Clerk's Office at Town Hall, and RCTV Studios for $3.75. To learn more and stay informed, follow Reading 375 on Facebook, Twitter, and Instagram and check out reading375.com.