Part Two – Vanessa Alvarado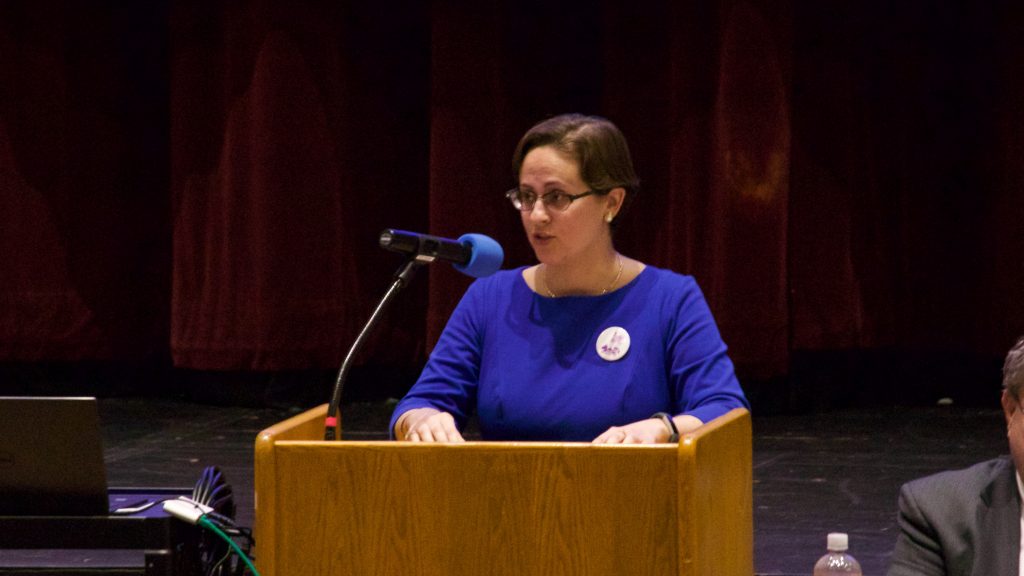 Thank you, Andy,
for providing our community with a look back of 2018
; and thank you to Moderator Foulds for granting me the opportunity to talk to you tonight.
As we move into the 2019-2020 fiscal year; I'd like to recognize those who are new or returning to our elected offices.
Chuck Robinson is returning to serve on the School Committee and he is joined by newcomers John Parks and Tom Wise. As the parent of two children in our school system, I give you my heartfelt gratitude for the many hours you devote to our children.
The RMLD Commissioners welcome back Phil Pacino and Dave Talbot. Thank you for keeping the lights on.
The Board of Library Trustees welcomes back John Brzezenski and Cherrie Dubois. The library is a true gem in our town, thank you for making it possible.
Of course, everyone's favorite moderator, Alan Foulds, is back again for his 23rd year.
The Select Board welcomes two new members Anne Landry and Mark Dockser. Both are joining us after serving several years on the Finance Committee.
Lastly, welcome to all the new and returning Town Meeting members. You are a vital part of town government and I thank you for your initiative, your thoughtfulness and your active participation in our local democracy.
I'd also like to take a moment to thank Dan Ensminger and Barry Berman.
Dan has served in numerous capacities as a town volunteer for almost four decades. Most recently as a Select Board member. From his start in 1981, Dan recognized the importance of forward thinking on the part of volunteers who run town government and has played an instrumental role in many major advancements in Reading. Dan, thank you for your years of past, present and future dedication to our town.
Barry has been an engaged member of our community for over two decades. Serving as a little league coach, a Finance Committee member, and a Selectman. He was one of the driving forces for economic development in town and a strong advocate for the housing development plan. He's with us this evening as a Town Meeting Member and I thank him for his many contributions.
I would be remiss if I didn't recognize the loss of one of my mentor's, Camille Anthony. She exemplified what it means to be a public servant. Her wisdom, her passion, her grace are all things she was well known for. Well, that and the look she could give you that spoke volumes. I knew I had gone off track when she raised that one eyebrow at me. Camille made us strive for a better Reading. She will be missed.
Recently, someone asked me what my vision for the town is this coming year. When I reflected on that, it wasn't budgets or buildings I saw. It was our community. For the coming year, I see my neighbors, my fellow elected officials, and volunteers, town staff and residents alike, working together in a productive and unified effort to maximize the opportunities ahead of us.
And it's both a challenging and exciting year we're looking towards. The work of this town could not be accomplished without the efforts of our many wonderful volunteers working closely with our town staff. Over the last few years, you have all laid the groundwork for some big projects in Reading.
We've established an Ad Hoc Committee to create a Human Rights Commission. This is in response to the anti-Semitic, homophobic and racist graffiti found in town. Reading is not unique in this struggle. It is something communities across the country are dealing with. While no one likes to make the front page of the Globe for this kind of behavior, I am proud of our community for dealing with it head-on.
Economic development is an ongoing priority.
We're continuing the in-depth discussions around development for our downtown and expanding it to include the potential along Walkers Brook Drive by the DPW.
Thanks to a grant by the state, we will be working with consultants to find opportunities to improve these areas, while at the same time recognizing what existing residents love about our bedroom community.
The development known as Post Mark Square is underway. We're looking forward to seeing the results of what collaborative economic development looks like with the completion of this project. It's worth noting, that the developer is a local resident and I thank him for setting the bar for what a good neighbor looks like.
We've had preliminary discussions with RMLD on how we can work together to make Reading greener and to partner for mutually beneficial financial outcomes. The future is electric.
We'll also be working with RMLD on revising the formula to determine the payment from RMLD to Reading.
While the Town Manager and Superintendent will go into more detail, I would like to mention the successful implementation of the override funding. Our town is stronger, safer and providing necessary services thanks to your vote.
In the past two years, we've heard from various organizations about the efforts being undertaken to make towns more senior and dementia friendly. This is an area all of us on the board are eager to support.
In just a few weeks, we'll be celebrating the 375th anniversary of our town. This is a shining example of the dedication and commitment of our residents. The lead up to this celebration began five years ago and has involved 50 residents in advance planning, with hundreds more volunteering during the celebration itself. It has involved 60 local sponsors and countless town staff. For all of you who made the upcoming celebration possible, thank you.
And while we're talking about celebrations, let's wish Mr. Nelson Burbank a happy 98th birthday. His generosity to youth activities via the Burbank Ice Arena has resulted in decades of athletic engagement by our youth and has benefited the town via $3M in contributions over the past 25 years. Thank you, Mr. Burbank.
As we look to the year ahead, let us appreciate how fortunate we are to live in a community that cares.
A community that comes together in times of need.
A community that is so filled with selfless volunteers.
A community of neighbors who will work together to move our town forward.
Thank you for being a part of Reading's future. I look forward to working with you in this Town Meeting session and throughout 2019-20. Thank you.