Part One – Andrew Friedmann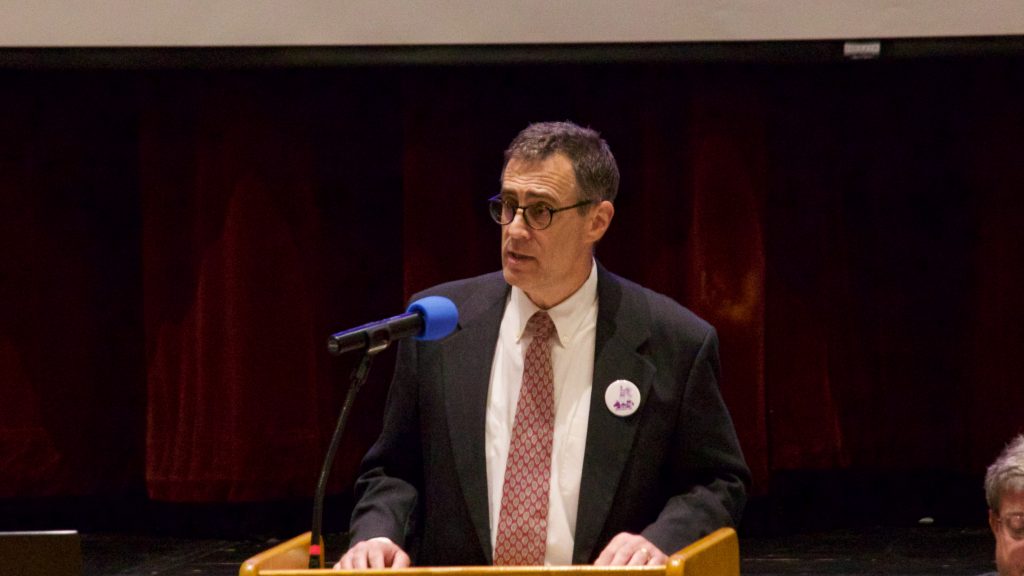 Good Evening everyone. Tonight's state of the town address will be delivered in two parts – the first by the outgoing Chair, myself, and the second by the incoming Chair, Vanessa Alvarado.
There's so much we could talk about when it comes to the state of our town. Our government's condition and financial health, for example, often take the spotlight. And while it is important to reflect on how the schools and the town are running, those discussions will come later. Tonight I would like to focus on an often overlooked force that plays an integral role in determining the state of Reading.
That force is the spirit of volunteerism. Volunteers are people who care deeply about this town. Without them, Reading, as we know it, would not exist.
Imagine what things would be like if all of you, the elected members of Town Meeting, didn't care enough to show up tonight? Likewise, consider the scores of volunteers that make up elected and appointed boards, committees, and commissions. Without all of these government workers, who give countless hours to help run this town, life in Reading would be prohibitively expensive and decidedly less democratic.
If government volunteers are the cogs that keep the town running, there are others who make Reading shine. Consider the groups that do such important work with our schools, like Samantha's Harvest, Understanding Disabilities, the Reading Education Foundation, and the various Parent Teacher Organizations. Then there are individuals who give their time for music, art, the sciences, and athletics.
Still other volunteer groups–the Quannapowitt Players, the Colonial Chorus, the Reading Symphony Orchestra, and the Reading Singers, to name a few–add so much to Reading's culture. Then there are youth sports organizations, also fueled by volunteers, that provide athletic opportunities to town youth and financial support to our high school teams. Just last week, the Select Board accepted a gift from Reading Little League Baseball to revamp Majors Field and install much needed portable toilets at a number of locations.
When unexpected needs crop up in town, there always seems to be people there to help. The Rotary Club stepped up recently to organize the Reading Fall Street Fair. They are already looking for volunteers to help make the next one another success. To counter the hate-filled graffiti in town, a number of proactive individuals came together to form Reading Embraces Diversity. A group that promotes inclusivity, last October they organized an anti-hate rally on the town green.
Soon, it will be time to celebrate Reading's 375th anniversary. Naturally, there is a group of volunteers who have committed their time and energy to make the anniversary something very special. The Reading 375 Steering Committee have amazing events planned, including Porchfest, Vintage baseball, Clubhouse at the Tavern, and Revelry at the Tavern, all on June 8th and the grand finale on June 15th, with hot air balloon rides, live music, food trucks, fireworks, and a dog parade. They did try to include the cats, but they just gave that "this is so beneath me" look.
Our town's strong spirit of volunteerism is a clear demonstration of just how many people care deeply about Reading. These volunteers are the glue that makes us not just a town, but a community. I tip my hat to our volunteers for keeping Reading healthy, strong and vibrant this past year.
The Select Board members are also vital members of this volunteer community. Though the past year brought its challenges, we took care of business. We were also successful at setting goals for the Board, some of which we have already completed. Others are still in progress, and I'm confident that we will wrap them up and add new ones.
This marks the time to look ahead. For that, I yield the podium to our newly elected Chair of the Select Board, Vanessa Alvarado.