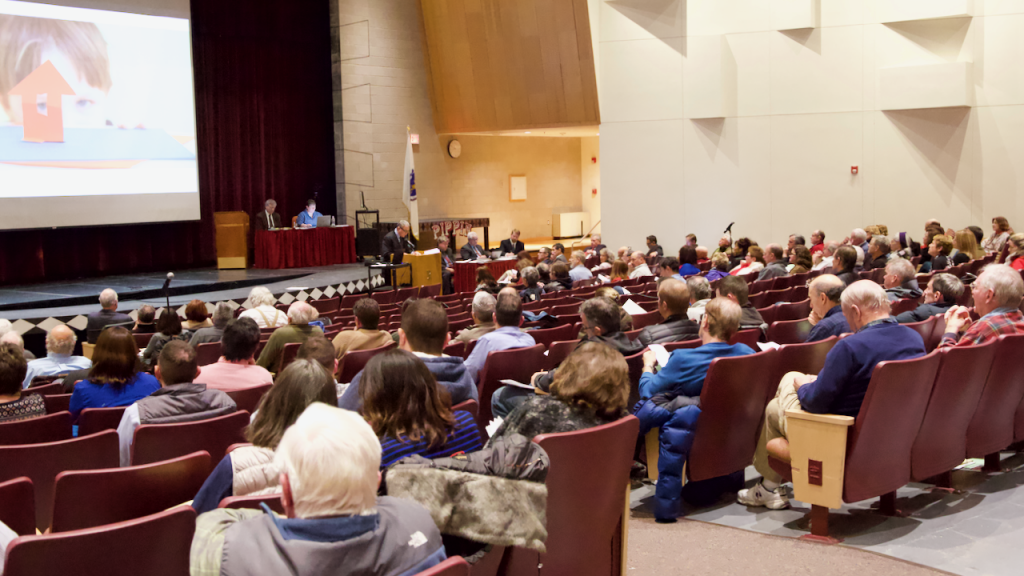 Reading's Annual Town Meeting is set to begin on Monday, April 23 at 7:30pm. Town Moderator Alan Foulds expects to begin the meeting with a few reports, then move right into the warrant articles. There are eighteen articles on the warrant, including zoning bylaw changes, the Fiscal Year 2019 municipal and school department budgets, and renaming the Board of Selectmen to a more gender-neutral term. Town Manager Robert LeLachuer told the Board of Selectmen at their April 17 meeting that he expects Town Meeting to last "at least two, maybe three nights." The second night of Town Meeting will be on Thursday, April 26. A third night, if needed, would be on Monday, April 30.
Foulds indicated that the annual State of the Town Address will be given by Board of Selectmen Acting Chair Barry Berman at the beginning of the Thursday session, then the meeting will continue on the warrant articles. Foulds expects the budget to be discussed on Thursday evening. The Finance Committee voted to recommend a revised budget on April 11 in response to the successful Proposition 2 ½ override vote on April 3.
"The [Town Meeting] members can be passionate," Foulds commented, "but, contrary to the turmoil in the greater political world, townspeople remember that despite their differences they always leave the meeting as friends, as neighbors."
Annual Town Meeting Preview
Article 1 Local Election – Completed April 3rd
Article 2 Reports 
State of the Town –

Acting Selectmen Chair Barry Berman

Financial Update –

Fincom Chair Peter Lydecker

Updates on Instructional Motions

RMLD Payment to Town of Reading

Gender Neutral Language in Bylaws & Charter
Article 3 Instructions Last night of Town Meeting
Article 4 Amend the Capital Improvement Program FY18 Budget
Article 5 Amend the FY18 Budget
Article 6 Approve Payment of Prior Year's Bills
Article 7 Declare Surplus Materials
Article 8 Appropriate Funds into OPEB Irrevocable Trust
Article 9 Amend General Bylaw 6.6.2 Inspection Revolving Fund
Article 10 Amend General Bylaw 6.6.4 Library Materials Replacement Revolving Fund
Article 11 Approve Revolving Funds
Article 12 Approve Affordable Housing Trust Fund Allocation Plan
Article 13 Authorize Procurement for Digital Curriculum For Term Greater Than 3 Years
Article 14 Amend General Bylaws – Rename Board of Selectmen
Article 15 Amend Zoning Bylaw 6.0 Intensity Regulations
Article 16 Authorize FY19 Chapter 90 Expenditures
Article 17 Adopt FY19 Budget
Article 18 Remove Town Meeting Members
Every session of Town Meeting will be covered live on RCTV channel 9 (Comcast) or 31 (Verizon).