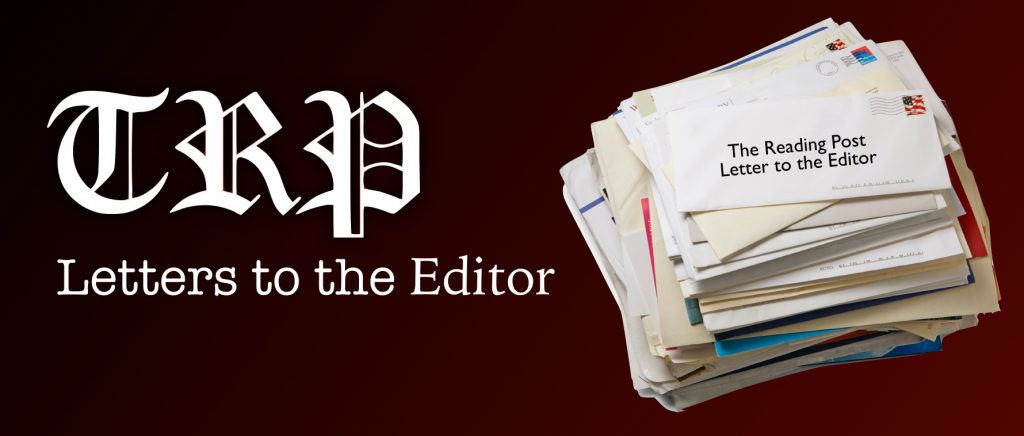 The Reading Post accepts Letters to the Editor. All letters must be signed. The Reading Post reserves the right to edit or not publish any letters received. Letters do not represent the views or opinions of the Post. editor@thereadingpost.com
---
Dear Editor,
We read every article published and every letter written to the editors of local publications about the Proposition 2 ½ override vote on the ballot for April 3rd. Whether they're for or against it, everyone has expressed one consistent theme: their love for this town. Many of your readers have lived in this town for decades, raised their kids to adulthood and sent them to our schools. Our home is where our heart is, and that place is Reading. It's that simple. We support the override because there is no other choice.
The facts are eye-opening:
Reading's school budget has been cut by $3.5 million over the last five years, and the cuts are accelerating. Our public school teachers are leaving or being laid off and those who remain lack the resources they need to teach effectively. A YES vote will save teacher jobs, prevent the dismantling of the middle school model, and halt the decline of Reading Memorial High School.

Reading's police and fire staffing levels are the same as they were four decades ago, yet thousands more people live here today. According to the Chiefs of Fire and Police, there has been an increase in calls to public safety, the calls last longer, and the reporting requirements are more time consuming. A YES vote will get the public safety resources our town needs.
Both of us lose sleep every night thinking about the devastating impact a failed override will have on our town and families. Whether you have school aged children or not, every resident relies on the Reading Public Schools to prepare the next generation to be successful, productive adults. A passed override will benefit all students by ensuring that class sizes remain reasonable at the elementary level, the highly successful and supportive middle school model remains in place, including foreign language instruction. A passed override will also restore much needed teaching positions at the High School to provide reasonable class sizes, offer additional course selections, and more challenging courses including AP. It benefits us all to ensure that the next generation is well prepared to inherit a complex world with challenging problems that need solving.
Every resident of Reading relies on our town services, from newborns to seniors. We all count on public safety being there quickly when we call 911, with the right training and equipment to save lives. We count on our ability to walk freely through our neighborhoods with a feeling of security because our police department is well staffed and trained. We count on the rich recreational and educational opportunities we enjoy through the Senior Center, our Public Library, and the Recreation Department. We count on being a town that can attract new families and sustain strong property prices for our homeowners.
Our Board of Selectmen and School Committee members unanimously approved and endorsed the override proposal on the ballot. Our Chiefs of Police and Fire look forward to the restoration of public safety services. Thousands of our residents have told us that they will vote YES on April 3rd, and more than 600 of them have even put up yard signs in support. We implore your readers to join them, and us, by voting YES for Reading on April 3rd.
Erin Gaffen (Hemlock Road) and
Michele Sanphy (Glenmere Circle)
Co-Chairs of the Yes for Reading Ballot Campaign