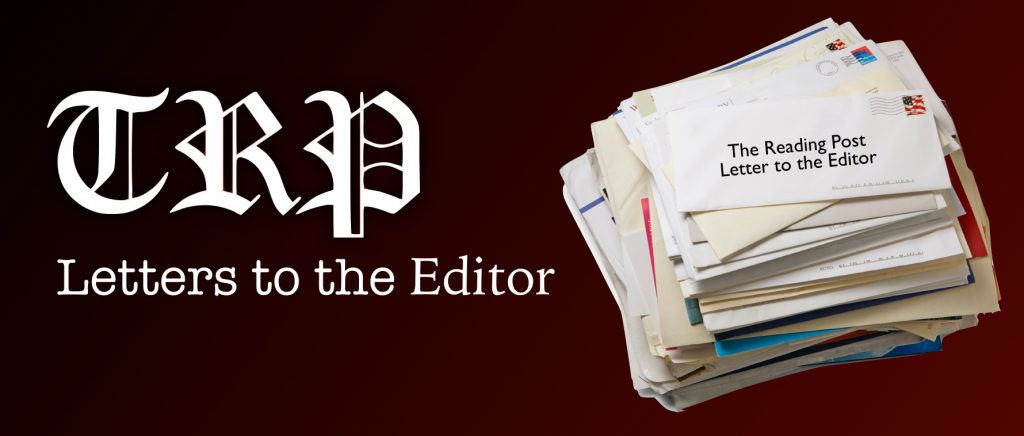 The Reading Post accepts Letters to the Editor. All letters must be signed. The Reading Post reserves the right to edit or not publish any letters received. Letters do not represent the views or opinions of the Post. editor@thereadingpost.com
---
Editor,
I want to start by saying I am no expert on the detailed workings of the operations and budgets of the Town of Reading. I did once serve on Town Meeting for several years. Was always amazed about how much there was to know, and how it seemed only a small number of people were able to debate in serious detail with town leaders. So my case against this override on April 3 will be waged on a high-level.
We know this override will be for $4,150,000, with 64% to the schools and 36% to the town. The average Reading home is worth $559,800, so the typical homeowner would pay $448 more in property taxes in the upcoming fiscal year if the override passes. It is my understanding the additional tax increase from a successful override would be permanently added to the base amount upon which all our future annual property taxes would be calculated. So if the override passes, we will be paying more each year – forever – than if the override had never passed. It will be 'the gift that keeps on giving'.
Each year the amount of money brought in by property taxes (that thankfully can't increase more than 2 1/2% by state law) and from other sources to the town/schools goes up. New growth and periodic property reassessments help this upward trend. The town and school budgets are on average about 3% higher each year. That's an annual increase bigger than the yearly raise most voters get from their employers, or might be able to eke out from their small businesses. The average person has to get by with maybe a 1 to 2% increase in annual income. And I am sure many voters have had years without income increases, or even had to swallow cuts to their incomes. If the override passes, retirees on fixed income will be especially hit hard.
Now, it is true some costs for the town/schools go up higher each year than this average 3% increase in revenues, in particular employee healthcare costs and special education costs.
This is why we need town leaders willing to propose and try to implement systemic changes to lower these and other 'budget busters'. This will likely require help from our state and federal representatives. During this election cycle, we should all be asking our local leaders what real change they would work towards to reduce the rate of growth of these budget busters and to avoid overrides. Just proposing an override, with no demonstrative efforts to seek systemic changes in these areas, is not acceptable. We need real leadership to have the Town of Reading live within our means, even if those proposing these big changes ultimately are not successful. They have to really try.
Do voters believe the town and schools have exhausted all efforts to increase revenue before resorting to this override? Do the voters think the town and schools have truly pursued all efforts to cut waste from their budgets before advocating this override, specifically the schools? Do any but a small minority of voters really need anything more in services from the Town of Reading?
From my conversations with Reading voters to date, I would say it would be a resounding NO to all these questions. The last override attempt in 2016 was defeated approximately 60/40. I frankly don't believe much has really changed since then in Reading's government to warrant this override. I sense there are enough voters who think this same way to defeat this latest override attempt.
I hope those interested in supporting my efforts to defeat the override, under the slogan Responsible Reading, will contact me at responsiblereading@gmail.com. Please let me know if you can help in any way, even just by using the information from this letter to encourage others to vote against this override.
Those supporting this override will have colorful yard signs, volunteer phone bank operations, slick websites, and other tools to push their bigger government agenda.
Those against this override will have to be strong-willed, confident to speak their mind, committed to keeping the size of government (at all levels) as reasonable as possible. We won last time because our position was responsible. Our position now is still the responsible one, so I believe we will win again.
I look forward to a spirited campaign regarding this override. Civility, with sincere respect for differing opinions brought forth with thoughtfulness, has been the hallmark of our local political debates that I have witnessed since moving to Reading in 1994. I hope our local media will live up to its professional responsibility to provide unbiased coverage of this important contest.
So please encourage family members, friends, neighbors, and others to get to the polls on April 3 to vote NO on this override!
Brook Chipman,
21 Bond Street