Mobile phone game "Pokémon Go" became an instant phenomenon following its July 6 release  capturing the imaginations of players across the world and, here in  Reading.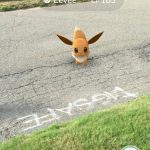 The application uses GPS information and the camera of mobile devices to produce an augmented reality game which inserts digital creatures called "Pokémon" into real-world locations including The Reading Town Forest and Parker Tavern.
The game requires players visit real world-locations in order to catch, train, and battle the Pokémon competitively.  Players are guided to Pokémon, and other in-game items, using a real-world map which overlays the objects on actual locations. The player's current location is displayed on-screen with a detailed map of nearby Pokémon. The map also includes areas known as Poké Stops and Pokémon gyms, typically located at existing points of interest including businesses, public buildings, and historical sites.
Currently, Poké Stops can be found at the entrance to the Reading Town Forest (pictured) and the  Parker Tavern. By visiting a Poké Stop in the real world, players can restock on Poké Balls and gain other items needed to play the game. At a Pokémon gym, players can compete with other players to see which Pokémon is the strongest.
"I think Pokémon Go is great for the Parker Tavern. It is bringing in those who have never visited before, both children and adults. For places like The Parker Tavern where it is such a small non-profit organization, it is important we have this interaction with the community.
Historic Houses lately seem to be struggling partly due to lack of visitation but this app is positive marketing for us. It is nice to see those underappreciated historic landmarks receive some attention," said Parker Tavern Caretaker Rebecca Barber. "Most importantly I feel it is amazing to see people getting out of their house, going for walks and connecting. I think in our culture today we need this desperately."
Players of all ages can be spotted around Reading, with groups joining up to hunt for Pokémon together while socializing and exercising. Pokémon Go players be found walking around town, often sharing advice and tips for catching Pokémon with each other. For those interested in playing, the best areas to look for Poké Stops and Pokémon gyms are in the center of town at the Reading Commons (pictured). Remember to bring along company and be alert of surroundings at all times. But most importantly, have fun and try to catch them all!
Pokémon Go, which is free to download and play on mobile phones. The game is the latest installment in the long-running Pokémon franchise, which first debuted in 1996 and includes video games, cartoons, trading cards, and other merchandise.  It is the first unique Pokémon game released exclusively for mobile devices and was developed by San Francisco-based developer Niantic in co-operation with The Pokémon Company.