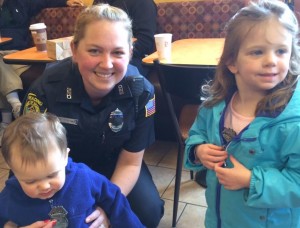 READING – The Reading Police department has announced its first "Coffee with a Cop" event for Friday, April 8, 2016.  The event will be held at the Dunkin' Donuts at 273 Salem Street in Reading between 9:00am to 11:00 am..  Residents are invited to join Reading's new Police Chief, Mark Segalla, and other officers in an informal time of questions and sharing.
Described as a "No Agenda, No Speeches" event, this will be one of the innovations coming from Community Service Officer Kristen Stasiak and is expected to be a regular occurrence as the police department seeks to foster even stronger relationships with members of the community.
Any questions about this event can be forwarded to Officer Stasiak at 781-942-6761.