Saturday, December 2nd at 3:00 pm, Whitelam Books welcomes author-illustrator Matt Tavares presenting his new book, "Dasher Can't Wait for Christmas"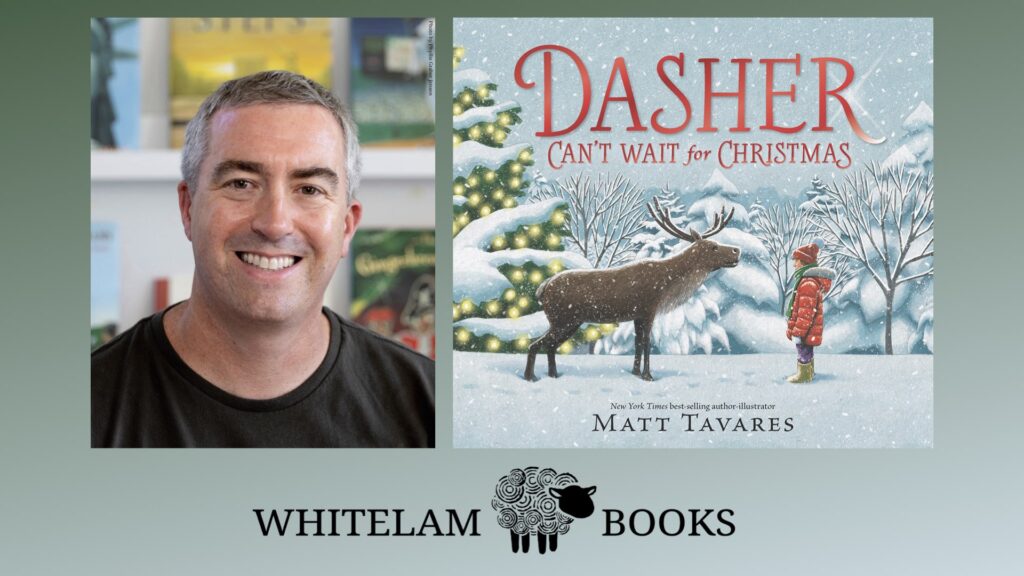 Reading, Massachusetts—Whitelam Books is delighted to welcome New York Times best-selling author-illustrator Matt Tavares to share his new book "Dasher Can't Wait for Christmas" on Saturday, December 2nd at 3:00 pm. Matt will be reading the newly released book, which is a sequel to his best-selling "Dasher," answering questions, and signing copies. Whitelam Books is located in downtown Reading at 610 Main Street, near the intersection of Haven Street and Main Street. Books will be available for purchase and signing. This event is free and open to the public – all are welcome!
About the Book:
With only one sleep left before Christmas Eve, Dasher can't contain her excitement for her favorite holiday. With the sound of Christmas carols on the breeze and twinkling lights radiating from a nearby city, she sneaks off to visit the festivities. But as night deepens and snow starts to fall, Dasher realizes she can no longer spot the North Star in the sky to lead her home. Will the kindness of a child, an unexpected gift, and a dose of Christmas spirit get her back in time to help guide Santa's sleigh?
This is a wonderful story full of Christmas magic and holiday cheer, and the return of a fan-favorite character!
About the Author:
Matt Tavares is an author-illustrator of many children's and middle-grade books, including Dasher, Red and Lulu, and the graphic novel Hoops. He grew up in Boston, Massachusetts, surrounded by books that his parents read to him or got from the local library. This strong foundation of reading inspired him in his adult years to begin writing picture books, and he has since won numerous awards for his books. He now lives in Maine with his family, where he continues writing, drawing, and traveling to libraries, conferences, and bookstores to share his creations.