June 30, 1946 – November 6, 2022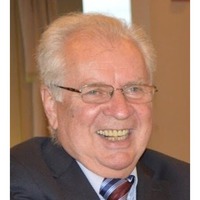 Paul Crowley Jr., 76, of Reading passed away suddenly at home, Sunday, November 6. Paul was the beloved husband of Kathryn (Cronin)- Crowley for 45 years before she passed away in 2016.
Paul was born and raised in Arlington, the son of Alice (Adams) and Paul Crowley, and was the oldest of 4 children. He was a graduate of Arlington Catholic High School and Northeastern University and was also a veteran of the Army Reserve. Paul and Kathy moved to Reading MA in 1975. He worked in the IT field until his retirement in 2019. Paul loved watching sports and movies, playing golf, going to the beach, and playing card games and backgammon. After his retirement, he most enjoyed spending time with his grandchildren.
Paul will be deeply missed by his sons, Brian and his wife, Gayle of Windham, NH, and Jeffrey and his wife, Kristen of Peabody, MA, and his cherished grandchildren, Connor, Kevin, Jenna, and Andrew. He is also survived by his brothers Richard Crowley of Arlington, MA, and Robert Crowley of Winchester, MA. He was predeceased by his sister Kathy Fryatt. Paul will also be missed by his nieces and nephews.
In lieu of flowers, donations may be made in his memory to the MSPCA Nevins Farm, 400 Broadway, Methuen, MA 01844. A visitation will be held at Douglass, Edgerley, and Bessom Funeral Home in Reading on Sunday, November 13 from 12 to 3 pm.
To send a flower arrangement or to plant trees in memory of Paul Francis Crowley, Jr., please click here to visit our Sympathy Store.