November 7, 1925 – November 4, 2022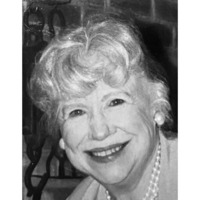 Mary Kathryn (Toomey) Barrett, 97, of Plymouth and formerly of Reading, died peacefully on November 4, surrounded by her family.
A resident of Reading for 68 years, Kay was married to the late John H. Barrett, Jr. for 76 years before his death in 2021. Kay accompanied her beloved Jack as he traveled the world, first with the US Navy and later as a prominent civil engineering executive.
Kay and Jack had ten children, of whom she was very proud.
Her children can attest to their mother always being their chief problem-solver, moral guide, supporter, motivator, defender, speech writer, and fashion designer. Her grandchildren will tell you about the giant Christmas tree, personalized birthday cards, elocution lessons, trips to Friendly's, or maybe one special letter of advice and encouragement at a crucial moment in their lives.
Kay was an accomplished artist and interior designer. She took great pleasure in her home on Summer Avenue in Reading, which she filled with her own artwork and designs, as well as antiques and treasures from her travels abroad. Her home's stately white fence, designed by Kay and executed by Jack, was a notable feature of their westside neighborhood.
Kay was also the consummate hostess, building an addition to her home and doubling the size of the dining room, in order to entertain her large family and her husband's international colleagues.
Kay was also an author, writing prolifically on the subjects of theology and the need for women to have an equal voice in the Catholic Church.
Born in Worcester, Kay was the daughter of the late Richard J. and Marie (O'Donnell) Toomey. Her youngest child, John H. Barrett III, of Reading, preceded her in death in 2021. She is survived by her daughter, Dr. Kathleen Leslie, M.D. and her husband Sanford of Plymouth; her son, State Senator Michael J. Barrett and his wife Nancy Dolberg of Lexington; her daughter, Mary Fraser and her husband Arthur of Reading and Wellfleet; her daughter, Susan Kalmakis and her husband George of Gloucester; her son, James Barrett and his wife Susan of New Jersey; her son, Stephen Barrett and his wife Margie of New Jersey; her daughter, Anne Barrett Doyle, and her husband William of Boston; her son, Thomas Barrett and his wife Colleen of Rockport; her daughter, Christina Asbell and her husband Robert of Maine; and her daughter-in-law, Hayley Dalton Barrett of Reading. She is also survived by 30 grandchildren, 36 great-grandchildren, her sister, Nancy Brazile of Worchester, her sister-in-law, Carol LaPierre of Hudson and many nieces and nephews.
Funeral services will be private. Donations in Kay's memory may be made to BishopAccountability.org, Inc., P.O. Box 541375, Waltham, MA 02454-1375 https://www.bishop-accountability.org/donate/
To send a flower arrangement or to plant trees in memory of Mary Kathryn Barrett, please click here to visit our Sympathy Store.