March 4, 1924 – September 14, 2022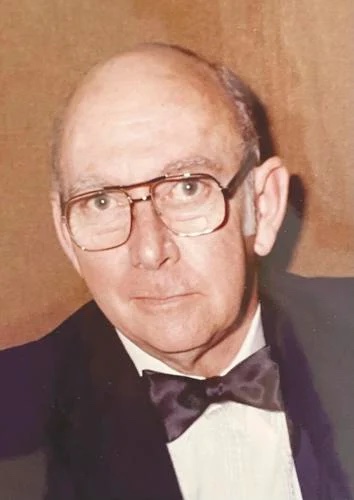 Kendall "Ken" Parker of 6 Collins Street in Amesbury, Massachusetts, passed away at the age of 98 on September 14, 2022.
Ken was born on March 4, 1924, in Detroit, Michigan, the son of the late Laurence H. and Grace E. (Winslow) Parker. He was the oldest of six children and was raised and educated in Reading, Massachusetts. Ken served in the Army from 1943 through 1946 in the Pacific Theater as a Radio Operator headquarters battery. Upon discharge, Ken was employed at Bostik Division USM Corp. He was a paint mixer and, in his later years, a chauffeur for the company. After over 40 years, Ken retired in 1987.
Ken married Dorothy Geirman in 1952. They moved to Peabody, Massachusetts. They raised two children, Robert and Kimberly. They were very active together and with their children in DeMolay, Masons, and Rainbow. They also enjoyed a vacation home in New Hampshire and recreational sports with their children.
Ken attended George Vesper School of Art and was a member of many art associations. His medium was oil and watercolor. Ken studied under several Rockport, Massachusetts, artists and attended many workshops. He received awards for his work, sold his work, and donated paintings to charity.
Ken was a member of the Big Brother Association of Boston, he was the Dad advisor in the order of DeMolay. He was an active member in the Masonic Lodge for over 50 years, a member of the York Rite and Scottish Rite of Masons, and a member of the Allepo Shriners in Wilmington, Massachusetts.
 
Ken and Dorothy moved to Gilford, New Hampshire, during their retirement years and joined the Gilford Community Church and many social groups. They enjoyed over 62 years together before Dorothy's passing in 2014. Ken moved to Amesbury, Massachusetts, in 2015, where he resided in a two-family home next to his daughter Kimberly and her husband Mark. Ken lived independently and received home assistance from the Visiting Angels and veterans administration.
Ken is survived by his two children, grandchildren, and great-grandchildren.
Ken enjoyed his final years in Amesbury with front porch visitors and neighborhood watching, frequent visits with grandchildren and great-grandchildren and the happy chaos of the extended family.
A private service will be held on Monday, September 26, at Forest Glen Cemetery in Reading, Massachusetts. Arrangements are by the E.V. Jutras & Sons Funeral Home in Amesbury, Massachusetts.