Sunday, September 11, 2022
Last Call for Sponsors and Vendors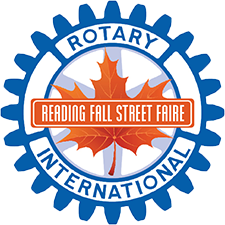 The Reading Rotary Club is proud to present the 14th Annual Reading Fall Street Faire on Sunday, September 11. It's back and better than ever! Drawing thousands every year to downtown Reading, it's one of the most beloved Reading traditions.
The Fall Street Faire happens every year on the Sunday after Labor Day – this year it falls on September 11. To honor and remember the victims of the 9/11 attacks, there will be a brief remembrance at 11:45 on the Woburn Street Stage, near the Town Common. Reading Police Chief David Clark and Fire Chief Greg Burns will speak and lead a moment of silence.
Live Entertainment
From noon to five, Faire goers will be treated to live entertainment on three stages, including bands, solo acts and high-energy dance performances. Check out the Woburn Street Stage (near the Common), the Haven Street Stage (near the Train Depot on Lower Haven), and the Acoustic Corner.
Meet our Vendors
The Reading Fall Street Faire runs along all of Haven Street and up onto Main Street. More than one hundred local businesses, clubs, organizations, and non-profits will have booths located throughout the Faire. Stop in and see them all!
Antique Car Show
Parking lot behind CVS between Haven and Woburn Streets
Come meet members of the North Shore Old Car Club and enjoy vintage vehicles from all eras. Rick Obey's Entertainment DJ Nick Lamberti will spinning tunes from the 50s, 60s, and 70s all afternoon. Take a fun trip down memory lane!
Football, Beer, and Cornhole
Lower Haven Street
The Patriots game will be streaming on a big-screen TV. Faire goers over 21 are invited to enjoy a cold one in the Beer Garden. Everyone is invited to participate in the 3rd Annual Cornhole Classic Tournament. A cash prize will be awarded to the best Cornhole player in Reading. Join the fun!
Fun for Kids
Kids won't want to miss two different inflatable zones with bounce houses, inflatable slides, and other amusements. Inflatable zone tickets will be available for sale on the Common and on Haven Street. Younger children will want to check out the dedicated Children's Area on upper Haven (in the Reading Cooperative Bank parking lot). There will be free crafts, games, and face painting.
Delicious Food
Throughout the Faire
Food vendors will be selling pizza, fried dough, cupcakes, cookies, popcorn, and slush throughout the Faire. Come hungry, leave happy!
Dunk Tank
Middle of Haven Street
It's a Fall Street Faire favorite! Local leaders step up to get dunked! Town Manager Fidel Maltez, School Superintendent Dr. Thomas Milaschewski, Reading Memorial High School Principal Kevin Tracey, and members of the Select Board and School Committee have all signed up to sit in the Dunk Tank. Your $2, $5, or $20 donation to take a chance at dunking a town leader will go to support both the Reading Rotary Club/Fall Street Faire and the owners of Ruff N'Ready Dog Grooming, a small local business that recently suffered a setback.
Last call for sponsors! There is still time for your local business to show your Reading pride and sponsor the Faire. Learn how your business can support this beloved community event at fallstreetfaire.com.
Last call for vendor registrations! This year's vendor registration has been tremendous, but there is still limited space available. Your local business, non-profit, club, or organization can meet thousands of residents at the Fall Street Faire. The deadline to sign up is September 6. Sign up today at fallstreetfaire.com.
Volunteers needed! It takes more than 150 volunteers to make the Faire happen. There are many opportunities to volunteer for just an hour or two during the Faire. Have some fun, get outside, make new friends, and help make the Fall Street Faire a success. Sign up to help at fallstreetfaire.com.
Cornhole Classic registrations are now open. Do you have what it takes to make it to the finals? Someone is going to be named best Cornhole player in Reading at the 3rd annual Cornhole Classic. Cash prizes! Register for your spot to play at fallstreetfaire.com.
Spread the word. Follow Reading Fall Street Faire on Facebook and Instagram to stay up to date on all the fun. Follow, like, and share with your friends and neighbors.