May 6, 1928 – July 31, 2022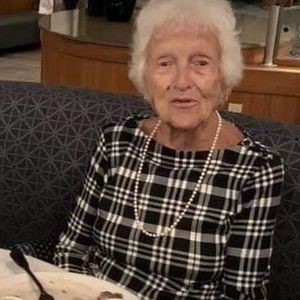 Patricia M. Cotty, 94, a lifelong resident of Wakefield, died Sunday, July 31, at the Sawtelle Hospice House in Reading. Born in Winchester on May 6, 1928, she was the daughter of the late Frank and Margaret (McMahan) MacKay.
Patricia was a graduate of Wakefield High School class of 1946. She was married to her late husband J. Warren Cotty, for 72 years. After her retirement, they wintered in Long Boat Key, Florida, for 30 years. Her 3 loves were taking her grandchildren to Disney World, spending time at the beach, and hosting her annual 4th of July party.
She was the beloved wife of the late J. Warren Cotty. The loving mother of Stephen Cotty of Wakefield and Kevin Cotty of Long Boat Key, FL. She was the sister of Jean Longfellow and Billy MacKay of Stoneham, Margaret Cox and Janet Thompson of Reading, and the late Donald and Kenneth MacKay. She is also survived by her 3 grandchildren, Adam, Sara, and Jill, 9 great grandchildren, and many nieces and nephews.
Her funeral service will be held at the McDonald Funeral Home, 19 Yale Ave., Wakefield, on Friday at 11 a.m. Visitation for relatives and friends will be held at the funeral home on Thursday from 4-7 p.m. Interment, Lakeside Cemetery, Wakefield.
In lieu of flowers, contributions may be made to Sawtelle Hospice House, 320 Haverhill St., Reading, MA 01867, or Wakefield Food Pantry, P.O. Box 1624, Wakefield, MA 01880